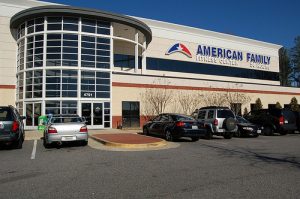 New health clubs continue opening in Richmond, catering to an increasingly fragmented health/sports market.
In June, American Family Fitness opened a 90,000-sf club at Short Pump. The local company has seven locations which cater – as the name suggests – to the suburban family crowd.
Volume at American Family Fitness clubs (not including the one at Short Pump) has risen around 27% from 2005 through 2007, from an average of 340,000 annual visits per location to 435,000 annual visits per location.
At the other extreme, CrossFitRVA, which runs an Olympic-style workout center in a converted warehouse near the Richmond City Jail, is holding its membership base, which is enviable in an industry with huge membership attrition.
Also, a new Anytime Fitness is opening in Chester, and Gold's is planning to open another gym in the developments slated for the Route 288 Midlothian Turnpike area. The start date has not been announced.
Not-for-profit facilities are also updating or expanding. VCU is renovating the Cary Street gymnasium, while the C on Monument just replaced all the equipment in its health club.
The timing may not seem great, with consumers pulling back, but gym operators say their businesses are some of the last ones consumers cut when pinching pennies.
"People are passionate about (fitness). It's a really big part of their lives to go to the gym, and I know a lot of them who cut other things first," said Jake Rowell, owner and trainer at CrossFitRVA.
CrossFit, which opened in May, is holding steady at 40 members. Rowell said he'd like that number to grow to 100, but he's not aiming for a huge roll because each member gets one-on-one training assistance during workouts.
The company wasn't as successful marketing to policemen and firemen as expected, Rowell said. Instead, word-of-mouth has been the most effective marketing.
owell said he's expecting an increase in the membership once school starts up again.
American Family Fitness, meanwhile, advertises heavily with billboards, TV spots and radio. The company also sponsors various events around town. In June, AFF opened a 90,000-sf facility in Short Pump, which is slightly less than two enclosed football fields. It was the company's seventh location.
"It was a great opportunity. The growth is moving west out of Henrico towards Goochland, and that makes that location a good match," said Owner and President Brian Evans.
American Family Fitness appears to be doing a better job reaching the suburban family crowd that its name espouses. Families now make up around 25% of the members, up from around 10% just a few years ago.
Evans said he's considering adding a location in the Stafford area, but is unlikely to open a location in Northern Virginia.
Competition in health clubs is notoriously fierce. (Insert reference from the movie "Dodgeball" here)
Long-established clubs are trying to remain competitive. The Weinstein JCC on Monument recently finished replacing all of its machines with shinier – and presumably better – ones.
The health club market is also increasingly fragmented. Women can go to women-only outlets like Curves and Shapes. Mom's can join Stroller Strides, which incorporates the stroller into the workout regime (preferably not by screaming Bobby Knight-like at the baby).
About 15% of the U.S. population belongs to a health club. The local figures are unknown, but Richmond does not have a reputation as a "fit" city, like Denver or Portland, so presumably it's not higher than the average.
Another challenge is the constant turnover. More than a fourth of those who join in January typically quit within a year, according to national statistics.
To combat the discomfort or tedium of working out, some gyms are adding more amenities. Stationary bikers at Gold's can watch movies.
One oddity about the health club sector, for-profits must compete with non-profits, such as the YMCA. American Family Fitness' Evans said that the YMCA in Richmond doesn't advertise heavily, which leaves room for the private clubs. In other markets, it's harder for private clubs to compete, he said.
Even VCU is getting in on the gym game. In 2009, the school will complete a $43.3 million addition to the 25,000-square-foot Cary Street Gym, which also will be renovated.
Aaron Kremer is the BizSense editor. He has little time to work out these days, though he does intend to start playing basketball regularly again sometime soon. Please send story tips to [email protected]