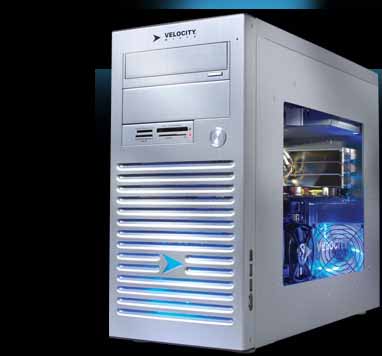 While computer makers like Dell and Hewlett Packard are slashing prices as they brace for a drop in demand, Richmond-based Velocity Micro, which produces high-end custom PCs, says things are holding steady. The Chesterfield company's PCs are favored by gamers.
"Obviously we are seeing a little bit of a downturn in sales, but we aren't looking to revamp our business model to combat it," said Spokesman Josh Covington.
"Because we are a luxury product the big downturns in the economy don't affect us as much as a Dell or H-P," Covington said, "Typically if you have money to buy a luxury machine, you are going to spend it any way."
The company this week also shipped several hundred machines to Circuit City. Covington said Velocity had temporarily halted shipments to the embattled electronics store until they filed for bankruptcy, which happened early last week.
Now that they've filed, Velocity said it feels comfortable that it will be reimbursed even if Circuit City never emerges from bankruptcy protection. Covington also added that Velocity is not owed large sums by Circuit.
This is not the rosiest time for making computers. Industry research firm IDC projects a 1 percent drop in American PC shipments from last year, according to the Wall Street Journal. IDC previously forecast a 6% increase in shipments, but for the last few weeks consumer spending has led to lackluster sales. Dell and Hewlett-Packard have recently discounted desktops, notebooks, and monitors as much as 20 percent to 30 percent.
Velocity Micro doesn't plan to cut prices to stimulate sales, Covington said. Founded in 1992, Velocity Micro is now the largest PC manufacturer based in the eastern half of the U.S., according to Covington. He said they sell and ship hundreds of their computers a month and earn annual revenue in the tens of millions.
 
The video game industry is one of the strongest in retail at the moment; consumers spent $1.31 billion on hardware, software, and accessories in October. That is an 18 percent increase from the same month last year, according to market research NPD Group.
Velocity Micro is launching a new line next week that will feature Intel's latest processor, the Core i7, which is four to six times faster than its predecessor. The new models will start at $2,099 and run as high as $7,000.