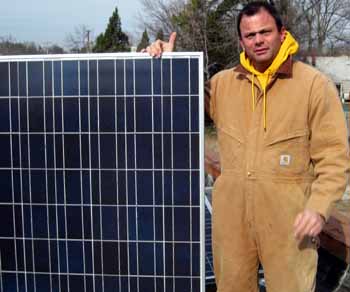 On a cold winter day, Bernie Stanley of Shockoe Solar puts the finishing touches on a solar panel array atop a veterinarian clinic in Glen Allen.
Stanley, as far as he knows, is the only solar panel installer in Central Virginia. But that could change if Gov. Tim Kaine's proposal to give businesses and residents a tax credit for going solar is approved by the General Assembly.
As part of his Renew Virginia initiative, the governor wants to give a tax credit of up to $8,000 to individuals and $20,000 to businesses for installing photovoltaic systems. The amount would be determined by the size of the system, with a $1,000 credit awarded for each kilowatt the system produces. (For example, a four-kilowatt system would be eligible for $4,000 and would produce four kilowatts at any given time.)
Virginia homes and businesses are already eligible for a 30 percent tax credit from the federal government, but it hasn't quite been enough to stimulate the industry here. Stanley said solar contractors in other states are watching and waiting for state incentives before setting up shop in Virginia.
"As soon as state incentives come into play, they are going to swoop down like a hawk," Stanley said.
But Stanley hopes his head start will put him ahead of the curve if the incentive plan is approved. He has already been approached by Dominion Virginia Power, AlphaGraphics and a commercial developer, which are interested in the possibility of installing solar systems.
He said his local roots and contacts will give him a competitive advantage down the road when out-of-state companies come to cash in on the potential boom in solar demand.
While Stanley waits for his next solar client to commit to a project, he will focus on promoting the business. He spent a few thousand dollars on radio ads, which have generated about eight calls in the past two weeks. He also bought a pink '85 Cadillac limousine that he is decorating with logos to draw attention to the company.
Stanley's new beginning as a solar panel contractor is a direct result of the bad economy. He has spent the past decade working in home construction, specializing in building home additions. In the past year, he has gone from building a new addition about every month to just one every few months.
"You couldn't sit and watch the news and wonder what kind of job I ought to get and not see the word 'solar' pop up," Stanley said.
He started to research solar panels and found a training class with Sharp Electronics in New Jersey. The class was sold out, but Stanley signed up for the waiting list. A spot opened up, and Stanley spent two days and $500 to learn about all things solar.
To be able to provide clients with the option to go solar, Stanley had to buy a Solmetric Suneye, a device used for measuring sunlight and calculating the amount of electricity that could be produced at a particular site. That cost about $1,800. Factoring in his travel expenses to attend the class, Stanley's initial investment was close to $3,000, and that's when he formed the company to capitalize on his newfound solar know-how.
Stanley's first project is the solar array at Locke A. Taylor's veterinarian clinic. The 5.5 kilowatt system will only provide a small portion of the building's electricity, but it will produce about 5,900 kilowatt hours http://en.wikipedia.org/wiki/Kilowatt_hour a year and provide about $90 in monthly savings. The average household uses more than 10,000 kilowatt hours a year, according to the Department of Energy.
The total price tag for the 24-panel system is $43,000; Stanley's profit margin is about 20 percent. Part of the clinic's cost is defrayed by a federal solar incentive of $13,000. The clinic will also be eligible for an additional $19,000 in accelerated depreciation benefits over several years.
If the state incentives were in effect, the clinic would be eligible for an additional $11,000 tax credit, which would bring the cost to them down to nearly nothing in the long run. Stanley said the clinic expressed interest in installing a second array of the same size if Virginia's incentive plan is approved.
Kaine's plan is capped at $2 million, with half allocated for business and half for individuals. Stanley said it is a start, but it really isn't that much in the grand scheme of things.
"That's 2,000 per kilowatt – that only adds up to 1,000 kilowatts of power you can produce for $2 million," Stanley said.
But he said that is enough money for dozens of jobs here and across the state.
A 1,000-kilowatt system would produce enough electricity to run about 1,000 homes for one hour.
Stanley is the first to admit that going solar isn't the cheapest source of electricity, but for businesses he said it is an effective public relations tool and an effective tax strategy.
"It won't make financial sense to do it to save electricity; it has to be a PR thing. At some point along the way they have done the math and figured out the PR is worth it," Stanley said of one of his potential clients considering installing solar panels.
Right now, without incentives, solar is generally too expensive for residential use. But Stanley says that as the price of coal-generated electricity rises and solar technology advances, residential solar will become more cost effective.