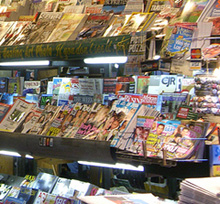 Porftolio.com, the website of the wonderful business magazine Portfolio, has a neat slideshow featuring 18 varied national figures and they're succinct thoughts on the economy.
A few highlights:
Eric Maskin: Co-recipient of the 2007 Nobel Prize in economic sciences.
By January 2010, the economy will be on the road to recovery. If all goes wrong, I'll escape to Italy and become an itinerant musician.

Jimmy Wales, Founder of Wikipedia.
I believe the internet will do very well. I think people are going to participate more online simply because if you can't afford to go out and do something expensive, you may just stay home and work on the internet. It's entertainment.
Andrew Ross Sorkin, Chief mergers-and-acquisitions reporter at the New York Times.
Citigroup will need to be bailed out—again.