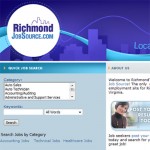 One Richmond job search site has stopped charging employers money to post jobs and browse resumes.
RichmondJobSource.com was started in early 2007 by Rich Ringrose. Up until Tuesday, it cost an employer $130 to post a job, and $300 to access resumes. Job seekers were always able to search jobs and post resumes for free.
Ringrose said the job situation in Richmond is so dire, he decided to give up his website's primary revenue stream in order to help.
"I don't think organization and individuals realize how desperate the situation is until you start talking to people who lost their job and don't know where to turn," Ringrose said, "We don't want the cost to an employer get in the way of posting a job."
Ringrose said there are currently 400 jobs posted on the site, and 27,000 resumes from jobseekers in Central Virginia. Since granting employers free access to the site on Tuesday, about a dozen companies have signed up.