BizSense has been keeping a close eye on building volume around Richmond, and if you've been reading you know it is down between 40 and 60 percent. Kevin Russell, vice president of Construction Management Solutions, has witnessed the slowdown firsthand. BizSense sat down with Russell at CMS's office near the Chesterfield Airport to talk about how builders are surviving the housing freeze.
Russell's mother started the company 20 years ago as a bookkeeping service for builders. The company has grown to provide management, architectural services, consulting, purchasing, estimating, website administration and software.

Below is an edited transcript.
Richmond BizSense: When did the ball start to drop for building?
Kevin Russell: It was about a year ago. We hit January of last year, and you could see there wasn't a lot on the horizon, but it wasn't that bad. It trudged along like that for six months, then we hit June and we thought, "It couldn't get worse than this." Then October came, and you might as well have just thrown all your papers on the floor and walked out the door. It was as if you had a hose and someone went to the spigot and turned it off. I've never seen anything stop so fast, ever.
RBS: That's what we've been hearing. What are builders doing to survive the slowdown?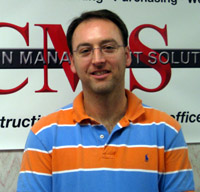 KR: Some of them are getting pretty creative. We've seen a lot of trading. Say a builder has a $750,000 house. The buyer has a house to sell. We're seeing the $750,000 house being traded for a $500,000 house. Then the builder is trying to sell the $500,000 house and maybe for a $350,000 one he is trading again. We've actually seen it trade all the way down to a $200,000 house, and now they are renting the property. So there has been upwards of two or three separate trades of houses from one builder to get all the way down to a manageable level. It's a pretty neat way to move a product, sustain your business and make a little bit of money.
Recently we've seen lease to purchase, which is really buying you time. The lease to purchase is essentially the homeowner agrees they'll make the interest payments and maybe a little extra to build up some equity. It buys the builder some time, they don't have to pay that interest any more, and that's all they are looking for.
One builder we've got, he is in the $300,000 or less range. He is literally marketing: "I will sell a handful of these at cost if I can at least stay open."  It's just to drive traffic, just to keep momentum. He's had nine contracts in the last two and a half months, which is amazing because he didn't have any for three months straight.
RBS: What are the top things builders are doing to cut costs?
KR: Unfortunately, layoffs have been the number one. Number two, they have eliminated their office space. They've either moved into their garage or their car. They have trimmed down so it's just them. No more office, no more rent. Get rid of the trucks; get rid of as much equipment as you can. Marketing is over with. If you look at the paper and see you used to have five pages of homes for sale, now there is none. Marketing has been totally slashed.
RBS: How is the slowdown affecting the labor market, specifically the exodus of foreign workers?
KR: We've always had framers here; some kind of got lazy or expensive. Then the immigrants came in and could do as good of work if not better for a cheaper price. We've heard some are going back, but there are still plenty out there. It's forcing the other laborers to reduce their costs to stay in business. Guys that may have been charging $50 an hour, now they've got to expand the relationships, so now they are willing to accept $35 an hour.
There is much more negotiation power. The labor is still there, it's just really adjusting to the mindset that they can still get paid at a higher rate. Everyone has to accept the fact that you've got to get back 2001 pricing. The standard 2,500-square-foot home in 2001 was maybe $215,000 to $225,000. That's because of not just material but also labor. As the boom happened, labor prices spiked. Immigrants came in and undercut the price, took over the share of the workforce. And here we are, the immigrants are leaving but the prices still have to come down.
RBS: How many companies have you seen go under?
KR: Once a week, I hear about at least one. I try not to listen, quite frankly. The negative news will wear you out. Builders come all the time looking for a positive sign, so we try to focus on that. We got a couple of guys that are actually selling houses.
During the boom, you saw a superintendent working for a builder who saw the builder make a lot of money. He left the builder and opened his own company. Now I've got two more builders on the market. They all sold a house, they all built a spec. We went from 1,600 permits to 4,000 permits: We can't sustain that. You had a process that was just easy money. The superintendent didn't know how to run a business. He didn't have a clue, so now he's out of business.
RBS: How long are contractors taking to pay subcontractors? How are they working with each other?
KR: There is definitely a give and take. Other than the ones on the verge of folding, we haven't heard or seen too many issues with that. I'd say some of them have become more stringent on when they pay. In the good old days, a sub could come up to you on Friday and say, "I'm finished. Can I get a check?" The builder would usually say, "Here you go." That's not happening. Now it's "send me your invoice, you got to get in by the 10th if you want to get paid. If it's not in by the 10th, you aren't getting paid until the following month."
The guys that used to cut checks twice a month are now cutting them once a month.
RBS: What is the big challenge builders face when dealing with banks?
KR: We had a client come in the other day that had a relationship with the same bank for 15 years. He's a build-on-your-lot guy, so he has very little debt and very little overhead. He met with his bank and they raised his interest rate. That doesn't help. He never missed a payment. Say his rate was prime plus two, now it's prime plus five.
The most disturbing piece of news from several of the guys who asked their bank if they received TARP funds – the answer has been primarily yes. Then they ask how they are using them. The answer is "we got about $50 million, put $10 million down here for a subsidiary, and got $40 million I'm waiting to use to buy some other branches." They are just holding money.
I've yet to hear any negations for lot expenses. Builders will go out and go into a subdivision and take down 10 lots. Depending on the price, it can be $1,000 a month interest. That's $10,000 a month in interest just to hold the lot. I've yet to hear of one single person telling me the bank has negotiated that monthly cost.
I've seen quite a few foreclosures; fortunately, a lot of the guys I work with haven't had to experience that. We have a lot of custom guys and on-your-lot guys. They are usually the ones that are protected. But we have a few who have $50,000 a month on lot interest costs.
RBS: How has the slowdown affected architects?
KR: A lot of the draftsmen are doing other things. We heard of one who went part time over at FedEx, and that was before the holidays. The need for draftsmen has almost been wiped away. Our architect here is a subcontractor. Up until a year ago, he had enough work he would be busy 40 hours a week. Now it's a nickel here and a dime there. I don't know of a single draftsman who has a full-time job.
RBS: What is the forecast? When will things approve?
KR: There is a lot of traffic — there is. I haven't spoken to anyone who doesn't say different. There are a lot of people out there looking, which is a good sign. Three or four months ago, no one was looking. I actually have some positive vibes that the spring is going to hit and we are going to sell a couple. To get to a plateau or a sense of normalcy, I keep my fingers crossed for the third quarter, but probably first quarter next year.
I don't expect anything magical, but I think we'll see a little uptick. It's not going to nosedive anymore, because there is nowhere else to go.