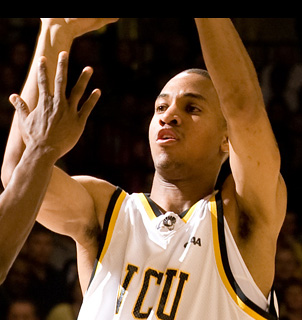 The VCU athletic department airbrushed out the tattoos on start point guard Eric Maynor's biceps for the media kit and the website, according to a short story in the Times-Dispatch.
According to the paper, "VCU Athletic Director Norwood Teague said it was his decision to have the photo altered.
"I think a lot of the younger kids love tattoos," he said. "The older generation doesn't like tattoos, so we try to take them off to present more of an even-keel image."
This brings up an interesting issue. Eric Maynor is obviously tremendously valuable to VCU. For a scholarship roughly valued at $15,000 (the cost of in-state tuition plus room and board) per year, VCU has gained national exposure (beating Duke) and perennial status atop the conference. That's gotta we worth serious $$$.
I wonder if Maynor minds this. After all, he's the one who got the tattoos on his arms, so he obviously wants people to see them or at least doesn't mind having people see them. And I wonder how much clout he has, seeing as he's the star player and responsible for much of their success. Maybe he doesn't care.
It'd be fascinating to see exactly how much he brought in the school – a very difficult thing to calculate, but fascinating.
A few factors:
How responsible was he for winning seasons (both is play and his utility for the coaching staff to recruit better players)
How much did merchandise sales increase during his tenure?
What sort of revenue did the school get from ticket sales and post-season appearances with him on the team?
And perhaps hardest to calculate, what sort of "Flutie Effect" did the win over Duke have. That is, how much exposure did the school gain from that win, did it translate into increased applications? What might that sort of exposure be worth ?
More Reading:
Flutie Effect is Real, study shows