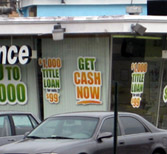 The General Assembly continued to tighten the reins on payday lenders this session, while car-title lenders eluded all legislative efforts to regulate their industry.
The two sponsors of the payday lending bills – Delegate Glenn Oder, R-Newport News, and Sen. Richard Saslaw, D-Springfield – have expressed their intentions to follow through on car-title lenders next session.
"With car-title lenders, there has not been the same public outcry like there has been for payday lending," Oder said. "We've closed the loophole, so now let's make the payday lenders live underneath these regulations that we passed last year."
Lawmakers wrestled over the payday-lending issue for three years before passing tough regulations in 2008 that limited the amount of loans a borrower could take out.
When the law took effect Jan. 1, legislators were outraged to find payday lenders evading regulations through the use of Virginia's open-end credit statute.
Car-title lenders operate under the same statute, which allows companies to charge whatever interest rate they wish as long as no payment is required for the first 25 days.
"Right now car-title lenders are completely unrestricted and unregulated," said Jay Speer, executive director of the Virginia Poverty Law Center. "There's no state agency that licenses them or watches over what they're doing."
Speer estimates there to be about 200 car-title lenders in the state, compared to a total of 800 payday-loan stores.
Like payday lenders, car-title lenders offer small, cash loans to consumers but use the borrower's automobile as collateral rather than a paycheck.
"It's actually in some ways even more damaging than payday lending," said Sen. Mark Herring, D-Leesburg. "If you don't pay back, then they take your car. And for a lot of people, that's their only means of transportation to work or the doctor or wherever."
Through the open-end credit statute, lenders can charge monthly interest rates ranging from 25 to 30 percent and annual percentage rates from 300 to 360 percent.
Herring sponsored legislation earlier in the session that would have put a 36-percent cap on annual interest rates for both payday lenders and car-title lenders. The bill died in committee.
"We've said it's wrong for one group of lenders to do it, but yet we allow others to operate freely with no regulation and no oversight," Herring said. "And I think that inconsistency was glaring."
Speer says it's important that legislature deal with car-title lenders before more Virginians are caught in the trap of what he sees as predatory lending practices.
"I think they have a strong lobby that kept them out of the fray," Speer said. "As far as we're concerned, they need to be dealt with now because a lot of people are going to car-title lenders and they're financially being ruined."
Saslaw, the chairman of the Senate Commerce and Labor committee, recently announced the formation of a three-senator and three-delegate subcommittee to study the issue during the summer.
"By June or July we'll have enough historical data that we can evaluate whether or not we need to do more," Oder said.
Oder said legislators must first ensure that the new restrictions on payday lenders will be effective before the assembly tackles car-title lenders.
"It would not surprise me if they found a way to get around these regulations," Oder said.
The AP reported that Ohio-based Check 'n Go payday lending stores are considering pulling out of Virginia because they cannot remain profitable under the new restrictions. The company has stopped making loans until they decide to stay in the state or not. The company operates 68 locations in Virginia and employ more than 120 people.