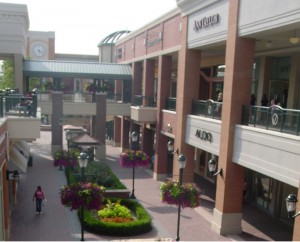 Shoppers in Richmond cut back spending at a surprising clip in the fourth quarter of 2008, according to recently released tax data. But restaurants, long thought to bear the brunt of new-found thriftiness, didn't see an across-the-board hit to their revenue.
Local spending shrunk more than 5.5 percent during the last three months of 2008, compared with the same period a year before, according to recently released state sales tax data.
Companies in Richmond, Chesterfield, and Henrico reported just over $2.6 billion in combined sales for the fourth quarter of last year, a $155 million drop from 2007.
Henrico County sales underwent the biggest dollar value decline, a $74.2 million reduction from the year before. Chesterfield County lost $46.4 million, and Richmond City lost $35 million in sales.
Not all industries felt the same pinch. Spending at health and beauty establishments, which include everything from prescription medication to cosmetics, rose 6 percent.
Andrew Wolf, an equity analyst for BB&T Capital Markets, said although that is a category where people can still scrimp and save, for the most part it is a necessary expense.
"There are places where unemployment is higher and sales are lower, where people are splitting their prescriptions," Wolf said. "This suggests that isn't happen here as much, that people overall can afford to take care of their health."
Sales at grocery stores and convenient stores rose 4.5 percent.
"There is a lot of food inflation in that number," said Wolf, who specializes in food and drug merchandising. He added that the sales increase in that category is in line with the rest of the country.
As far as eating out, restaurants and bars for the most part held steady, losing less than .25 percent.
Megan Svajda, director of government relations for the Virginia Hospitality and Travel Association, said that the restaurant industry has suffered its share of scrapes and bruises but that it will bounce back.
"You have to look at the amount of businesses that have gone out of business," said Svajda. "Obviously those restaurants that are more successful than others will be bringing in more money."
The VHTA also represents the hotel industry, which gained 10 percent in Henrico but declined nearly 3 percent for the area as a whole.
"Henrico added more hotels and added a lot more high-end hotels, so that helps offset some things," Svajda said.
General merchandise stores, which include big-box stores such as Wal-Mart, gained 5 percent in Chesterfield and 7 percent in Henrico. In Richmond, which for the most part lacks high-volume national retail chains, general merchandise stores experienced a sales decline of almost 15 percent.
Although some business defied the overall sales slump, many others did worse, with declines in the double digits.
Sales at hardware and garden stores decreased by 20 percent. Furniture and home decor stores were down more than 18 percent. Sporting goods, hobby, music, and book store sales declined about 14 percent.
Motor vehicle sales and parts declined by almost 10 percent. Gasoline stations reported a 6 percent drop in sales.
Clothing and accessory sales dropped more than 11 percent for the area overall, but Richmond apparel sellers improved sales by 2.8 percent.
Anne Kennon, who owns a mid- to high-end maternity clothing store in Carytown called It's Hip to be Round, said her sales seemed to be more in line with the area as a whole; they fell about 10 percent in the fourth quarter from the year before.
"I think we stayed a bit more steady than most," Kennon said. "The dip I had in January didn't get any deeper."
Another store location will open in August at West Broad Village, Kennon said.
Kennon said the modest increase reported by Richmond clothing shops could be because of more local support during tough times.
"In an ideal year, they would be spending money all over the place," Kennon said. "Now, since they are spending less money, they try to keep as local as they can."

Al Harris is a BizSense reporter. Please send story ideas to [email protected]