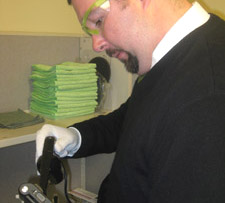 A new start-up in Richmond is hoping to cash in on businesses' need to cut costs and go green. Neat Geek, which officially launched two weeks ago, provides computer and office equipment cleaning service for local business.
Founder T.L. Melton said Neat Geek will save businesses money by prolonging the life of their technology investments and reducing the amount of sick days taken by employees.
"Over 60 percent of all illnesses are contracted in the workplace," said Melton. "One way to reduce that is too actually clean phones, keyboards, everything inside your office people are touching."
Melton has identified health-care offices and call centers as some of the key markets he plans to target.
Melton, and his business partner Scott Wray, met working for Capitol One's IT department. They left a few years ago to form their own IT consulting firm, Comsec Technology. For Melton, Neat Geek began as a pet project that he hopes will become his primary business.
Melton said his costs were less than $5,000 to start up the company, which include research, equipment, supplies and web development. Cleaning packages start at $7 per desk per week, which generally includes a computer and a phone.  The company offers monthly packages as well.
The Neat Geek cleaning process begins with an antistatic handheld vacuum that picks up the grit and grime that falls between keyboard keys and inside of computer ports. Next the computer is wiped down twice with a soft cloth. Once with a cleaning agent, and again with an antibacterial cleaner.
By keeping their machines well maintained, they can cut back on replacement costs, said business partner Scott Wray. Wray said the more dust that builds up inside of a machine, the more heat is generated. More heat makes the processor run inefficiently, which hastens the death of a computer.
So far they do not have any committed clients, so Melton is keeping busy marketing and doing demonstrations.
The concept of specialized computer cleaners is fairly new to the United States, but it is a big business in Europe. There is a law within the European Union that requires companies to keep their technology equipment cleaned and sanitized on a regular basis.
The company has a large emphasis on "green" business practices. All of their cleaners are Green Seal-certified, and they do not use any disposable products.
Another component of Neat Geek's green approach is that they reduce the environmental impacts of frequently replacing equipment, said Melton's business partner Scott Wray.
"Especially since the economic downturn, you are seeing people go from a disposable mentality to a 'how do we make everything last longer' mentality," said Wray. The less that computers need to be replaced, the less e-waste is produced.
Al Harris is a BizSense reporter. Please send story tips to [email protected]