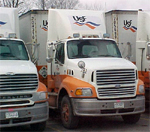 USF Holland, a major trucking company based in Holland, Mich., is shutting down its Richmond freight terminal on Belt Boulevard.
Richmond is among the 11 terminals the company is closing to cut costs. The others are in Kansas, Maryland, New York and Pennsylvania.
A manager at the Richmond terminal did not offer any details other than to confirm the closure, which will be effective Friday.  The company said in a release that 350 jobs would be cut as a result of the closures.
The company has been "pummeled" by declining shipments of automobiles and increased competition from regional carriers, according to an article in the Journal of Commerce.
USF Holland delivers in 15 states, employs more than 9,000 people, and has annual revenue in excess of $1.4 billion, according to its website. The company is a subsidiary of YRC Worldwide, a Fortune 500 transportation service provider headquartered in Kansas. The company was formed when Yellow Transportation acquired Roadway Express in 2003.
Freight currently handled by USF Holland's Richmond terminal will be transferred to another local terminal operated by a different subsidiary of YRC Worldwide.
YRC Worldwide will incur a one-time shutdown cost between $8 million and $10 million, but the closures will result in up to $30 million in annual savings for USF Holland, according to documents filed with the SEC.
Al Harris is a BizSense reporter. Please send story tips to [email protected].