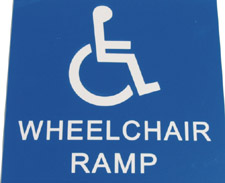 A Maryland lawyer has sued two more Richmond businesses for failing to comply with the Americans With Disabilities Act.
In March, RBS reported that Joel Zuckerman had filed more than 70 ADA compliance lawsuits on behalf of a handful of plaintiffs.
Two more cases have been filed by Zuckerman since that report.
Full Kee restaurant and Mexico Restaurant, both on Horsepen Road, are being sued for failure to meet the requirements of the act, which was passed to provide equal access of public places to people with disabilities. Both suits allege the properties do not have accessible parking, among other violations. The plaintiff in both cases has appeared as a plaintiff in 32 similar suits.
BizSense has also heard of at least one more Carytown business that has received a letter  from Zuckerman requesting compliance with the act since our story first ran.