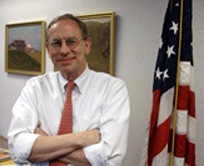 As part of the White House strategy to jump-start small business lending, the federal government increased the guarantee amount on loans backed by the Small Business Administration and eliminated fees. (Read about that here.)
Ron Bew, district director of the Richmond SBA office, which includes all of Virginia except for Loudoun and Fairfax counties, said that since the new lending rules went into effect in mid-March his office has seen a small increase in the number of SBA-backed loans. Since fall they have backed about seven to eight loans a week; now they are backing 11 to 12 a week and climbing.
Richmond BizSense sat down with Bew to discuss the details about the government's plan to stimulate small business.
Below is an edited transcript.
Richmond BizSense: Since the loan guarantee has increased, has it had the desired effect on encouraging banks to lend?
Ron Bew: We don't see it in the numbers yet. We see it in a lot of phone calls coming in here from both small businesses and lenders.
RBS: What is the big picture as far as the SBA and its relationship with lenders?
RB: I think the big picture is lending is down and credit is a little harder to come by. Companies that may have done well a couple years ago maybe didn't do quite as good last year, and banks are reluctant to extend credit to them. That's where we [the SBA] step up: To give that bank a little more incentive to lend, we give them a guarantee.
One of the biggest elements of this new stimulus package is to increase that guarantee that the bank receives from the SBA. The maximum loan guarantee used to be from 75 percent to 85 percent, depending on which plan the bank took. If the loan goes bad, we write the check to the bank to cover the percentage of this loss. It reduces their risk and encourages them to make loans. What has happened with the stimulus plan, the guarantee has gone to 90 percent.
RBS: How much money is going into the SBA from the stimulus package, and how is it divided among SBA district offices around the country?
RB: The SBA got a $730 million package; the money is distributed nationwide on a first come first serve basis. Of that $730 million, $375 million will be to cover additional loan losses from increasing the loan guarantee percentage and the elimination of the fees the small business has to pay. When it runs out it, it runs out, but we were estimated it will last until the end of this calendar year.
RBS: How much will the elimination of fees save for a small business?
RB: Average loans in Richmond for the state of Virginia are little more than $200,000. Take for example a $300,000 loan where when it was guaranteed 75 percent you would pay a 3 percent fee, which would be $6,750 dollars. That fee is eliminated, it's pretty substantial. On average it is 3 percent of the guarantee amount.
RBS: SBA lending activity is down about 50 percent https://richmondbizsense.com/2009/02/26/new-businesses-where-art-thou/ in terms of both the number of loans and loan amounts. What economic forces are behind that reduction?
RB: I think it's a combination of businesses not wanting to borrow, as well as banks increasing their credit standards.
RBS: Are there any other stimulus programs available through the SBA?
RB: There is also in development a loan program the banks can participate in that will lend companies up to $35,000 just to carry debt service, to make principal and interest payments on existing debt. That program should be available in two months, and there is a lot of interest from banks. Banks will lend up to $35,000 the SBA will guarantee it 100 percent so that the bank cannot lose money on that but it will help their customers get through this trough.
The micro-loan program is another way to get loans of up to $35,000. The SBA funds the micro-lender by giving them a grant to provide technical assistance to their customers whom they lend to.
RBS: Are you seeing more people interested in becoming first-time business owners?
RB: One third of our loans are start-ups. If someone wants to start up a business with no track record, they call us.
RBS: What is happening to default rates on SBA-backed loans?
RB: The loss rates are climbing. They used to be under 2 percent. Last year they approached 3 percent, which I think is very reasonable considering this is a gap lending high-risk loan program. I would expect those losses to increase, because we are seeing it in the past due numbers going up.

Al Harris is a BizSense reporter. Please send story tips to [email protected]