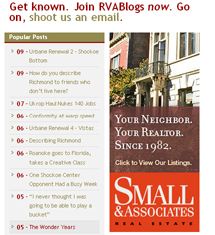 What was once a side business for a small website development firm has grown from a plucky aggregator to a network of news sites with more than 10 local advertisers. Pharr Out has hired a full-time ad sales person and owner Ross Catrow said it may even be time to add a full-time reporter.
Five years ago, Ross Catrow started RVA blogs as an aggregator that provided a summary of all the local bloggers who wanted to be included. Now the site pulls from about 400 blogs, including RBS.
RVA News, meanwhile, was started in 2007 to publish more local content and also to help organize the hyper-local news sites (such as Church Hill's People's News and River District News, most of which are run by volunteers). And if imitation is really the best form of flattery, then Catrow should be blushing. Media General has rebranded its Richmond.com site to be a direct competitor to RVA BLogs by also pulling in news from all the blogs and hyper-local sites.
To be sure, these are tough times in the media business, with newspapers and magazines cutting to the bone or going out of business. On Thursday, the Times-Dispatch laid off 60 people.
And the side business isn't breaking even on its own, Catrow said. But Catrow's two websites are run out of his website design firm, Pharr Out, so the costs of developing and maintaining the sites are minimal. (No rent, no additional cash costs for website programming…)
Pharr Out also builds all the ads for the advertisers. "We're trying to do ads that aren't irritating, aren't offensive to the eyes," Catrow said. That means no animation, no audio and "no dancing monkeys."  In January, the company hired a former Richmond.com sales rep to sell ads for the Richmond Ad Network, which includes RVA News, RVA Blogs and the local sites.
Catrow said that most of the readers are checking the websites at work. In a study he conducted, the average age of readers was 37 or 38.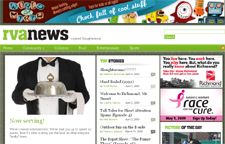 In the past several months, a handful of new advertisers have started running campaigns, including the vegetarian restaurant Ipanema, the City of Richmond, Venture Richmond (which promotes downtown Richmond) the Frog Bottom Farm, and Small & Associates Real Estate.
"There are gaps in the current market for things people wish they could read in Style and read in the Times-Dispatch," Catrow said, adding that it may be time to hire a beat reporter. As of now, most of the writers for RVA news are freelancers.
And while the business isn't a cash cow just yet, most of the inventory for April was sold. "We've brought in 50 percent of what we made all last year," Catrow said. That was in the middle of March.
Aaron Kremer is the BizSense Editor.  Stories from RBS appear on RVA Blogs. Please send story tips to [email protected]