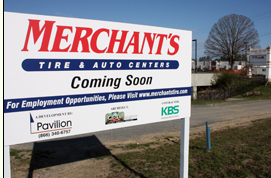 The Downtown Short Pump shopping and entertainment complex is about to get a few new additions. Merchant's Tire & Auto announced plans to build an auto repair facility on Pouncey Tract Road near Interstate 64, between the SkateNation and Bowl America buildings, near the well-known monumental oak tree (The County of Henrico has required the developer to preserve the landmark tree).
Site work has already begun on the auto repair facility. A recent building permit also shows that a mini storage facility is on the way. Public records show Richmond-based KBS Contractors received a $650,000 payment from Short Pump Mini Storage to construct a storage facility at 4396 Pouncey Tract Road, next to Bowl America.
This story first ran at Downtownshortpump.com, which is an RBS news partner.