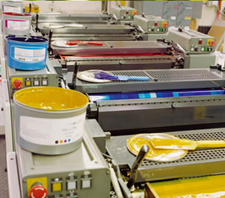 Worth Higgins & Associates, a commercial printer based in Richmond, has expanded by buying a Northern Virginia printer and hiring a handful of workers from a shuttered local competitor.
Worth Higgins offered jobs to some former employees of Colonial Printing, a local firm which ceased printing March 30.
"There is very little overlap between Colonial's customer base in Richmond and ours," said Duncan MacLeod, a sales director for Worth Higgins.
The company will grow from 122 employees to 146. And that number could grow by another 40 if Worth Higgins builds a 30,000-square-foot addition to its facility in Henrico County.
Worth Higgins, which is employee-owned, didn't disclose how much it paid for Vienna-based Billet Printing but said it is a way to enter the Washington market.
"Although we have had representation in that territory for many years, to have a production facility there gives us credibility as well as the immediacy that our customers expect today," MacLeod said in a statement.
Susan Higgins, who is director of marketing and human resources, said Billet had a brand-new manufacturing space with brand-new equipment.
Jennifer Billet, the previous owner, will stay on with Worth Higgins as an office controller.
Higgins said Worth Higgins has no other deals in the pipeline.
Aaron Kremer is the BizSense Editor. Please send news tips to [email protected]