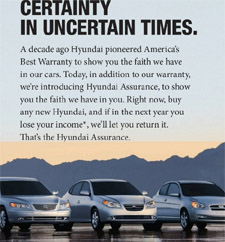 At first, Danny Fisher wasn't a fan of Hyundai's new marketing campaign for "Total Assurance," which would let a customer who had lost a job return a new car.
Fisher, the general sales manager at West Broad Hyundai, said he didn't think it would drive shoppers into the dealership. That was in January. He has warmed to the campaign, especially after it was tweaked so Hyundai would cover a customer's car payments for three months if he lost his job. After that, the buyer can either return the car for a full refund or start making payments again.
In part, Fisher said, it's a small way of helping out. "If somebody loses their job, they still need a car to get from point A to point B, and that little bit can help them obtain a new job, which helps them keep the car," he said.
Sales at the West Broad Hyundai are up about 14 percent compared with last year, Fisher said. Sales for most other manufacturers have plummeted by 40 percent. But it's not because of the guarantee, Fisher maintains.
"Only about 1 percent of the people coming in are asking about it," Fisher said. "It's not the reason we are selling cars. And if Ford and GM [which have recently added their own guarantees] think it's because of the program, they have another think coming."
Nevertheless, retailers are jumping on the bandwagon with versions of unemployment insurance or laid-off-refund policies, including homebuilders in Richmond. On a national scale, men's clothier Jos. A. Bank will refund money for men who lose their jobs after buying a suit, and they don't even have to return the garment. JetBlue offers full-fare refunds to customers who can prove they lost a job. All the programs require a customer to prove they were let go and not fired, and they have some fine print muddling exactly how you prove you lost a job. The guarantees don't typically don't apply to people who are self-employed, so small business owners are probably out of luck.
But taken as a whole, throwing in such guarantees might just be the sort of feel-good security blanket that gets customers spending again. That, in turn, could cause the economy to pick back up. (And that, when you think about it, would render the very guarantee unnecessary, but let's not get ahead of ourselves.)
Hyundai's program works like this: Let's say the dealer sells a Hyundai Elantra for $17,000. Once a buyer has made three payments, he can be covered for three months of payments if he loses a job. After that, if he still hasn't found a job, he can return the car. At that point, the dealership assesses the value of the car and an outside insurance firm covers the difference between the trade-in value and the sale price. The buyer is made whole.
In Richmond, several companies in the real estate industry are about to launch job-loss guarantees. Long & Foster and Craft Master Homes are both rolling out insurance programs that would cover several months of home payments for someone who loses a job. And in both cases, the customer does not need to pay anything extra. However, unlike Hyundai or Jos. A. Bank, the customer cannot return the house.
"If an individual loses a job, they can receive up to four or six months of cash benefits while unemployed. Hopefully they can get a job back quickly," said Jeff Tunstall, a general manager with Craft Master Homes.
Tunstall said his company is paying between $500 and $600 in fees per home to Paycheck Guardian, which was one of three underwriters he looked at. Craft Master's homes sell in the $200,00 to $400,000 range, and many of the customers are first-time homebuyers, Tunstall said.
"You have a lot of people who are now sitting on the fence. They're nervous that their job will still be there, and maybe this gives them some assurance," he said.
Long & Foster will also be rolling out a Job Loss Protection Program this month that will cover mortgage payments for six months. The home seller will cover the cost, according to a representative from Long & Foster.
Craft Master Homes is also picking up the tab to offer the insurance. But for manufactures such as Hyundai, the cost so far has been minimal. Fisher said that when Hyundai tested the program in Canada, only 2 percent of people returned a vehicle. It's unclear how much that would cost compared with the normal marketing costs for a vehicle.  Nobody at West Broad Hyundai has returned a car.
And if a $500 guarantee helps move homes, that seems like a small cost. If the past four weeks are any indication, laid-off guarantees are likely going to grow quickly.
One reason they're so effective is that it's unlikely that consumers who expect to lose a job in coming quarters would even be buying a car. For example, workers at Qimonda and Circuit City knew for months, if not years, that the companies were struggling and could lay off chunks of the workforce. That would mean that the people who are out shopping for a house or new car are probably secure in their employment but might be nervous because of the state of the economy. And the guarantee could be the sort of thing that loosens their grip on the check book, at least according to both Fisher and Tunstall.

Aaron Kremer is the BizSense editor. RBS has a laid off guarantee. If you lose your job, you can still read all our news for free. Please send news tips to [email protected]