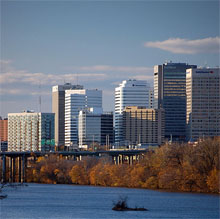 Thalhimer reports Midlothian Plaza Associates LLC purchased the 146,300 square foot Midlothian Center from Allied Capital REIT for $7 million. The retail/medical office strip center is located at Midlothian Turnpike and Wadsworth Drive in Chesterfield. You can read more about that here.
Sunrise Construction LLC leased 73,000 square feet at 1900 Ruffin Mill Road, and 48,400 square feet at 1908 Ruffin Mill Road in Colonial Heights.
Autopart International leased 7,200 square feet at 957 Myers Street in Richmond.
Four-HD LLC leased 5,100 square feet at 1920 W. Hundred Road in Chesterfield.
J. Everette Johnson a financial advisor, leased 4,200 square feet at 12934 Plaza Drive in Richmond.
Henrico Lodge No. 4 Fraternal Order of Police of Henrico County lease 2,600 square feet at 2221 E. Parham Rd. in Henrico.
Insmed, a locally based biopharmacutical company, leased 2,500 square feet at 6010 North Crestwood Avenue in Ricmond.
Wingspan LLC, a teacher and parent education center, leased 2,300 square feet at 4323 Cox Road in Henrico.
Inner City Youth leased 2,500 square feet at 2922 West Marshall Street.
American Senior Care a Texas-based provider of in home nursing,  leased 1,900 square feet at 500 Libbie Avenue in Henrico.
Meat Master Sales Inc leased 1,900 square feet at 9137 Chamberlayne Avenue in Hanover.
Virginians for Wagner PAC, a candidate for Lieutenant Governor, leased 1,600 square feet at 4907 Fitzhugh Avenue in Richmond.
The Peck Co., a family-owned commerical development company, leased 1,200 square feet at 1500 Huguenot Place in Chesterfield.
Bon Secours Healthsource leased 1,100 square feet in the Manchester Medical Office Building at 101 Cowardin Avenue in Richmond.
Sally Fretwell Paint Colors LLC, a Virginia-based paint supplier, leased 1,000 square feet at 3105 West Cary Street in Richmond.
CB Richard Ellis reports Riverside Logistics Services leased 68,000 square feet at 4203-4205 Eubank Road in Henrico.
Al Harris covers commercial real estate for RBS. Please send news tips to [email protected]