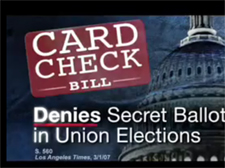 The battle over federal legislation that would allow workers to more easily unionize is rapidly heating up in Virginia.
The U.S. Chamber of Commerce said Monday that it is launching a $1 million television ad campaign in Virginia and four other states to oppose "card check" legislation in Congress that would change the rules for how workers can form unions.
You can see Virginia's video (featuring the Richmond skyline) below.
[youtube]http://www.youtube.com/watch?v=pXtkKESkuAQ[/youtube]
According to the Denver Business Journal, "The bill would allow workers to form a union local at their workplace if a majority signs union-authorization card, sidestepping the existing requirement that a secret-ballot election also be held."
"The measure is a high priority for labor unions, and is just as vehemently opposed by many business groups. Labor says existing rules allow businesses managers too much of an opportunity to pressure workers not to form a union; businesses said the card-check bill would unfairly tilt the scales toward unions."
Both sides will host rallies in Richmond on Tuesday. BizSense will have full coverage of the events.