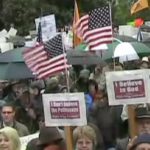 Like their tax-despising brethren around the nation, thousands of protesters showed up yesterday at Kanawha Plaza in Downtown Richmond for the Richmond Tea Party.
Speakers including AM personality Jimmy Barrett, who roused up the crowd. There were also revolutionary-era re-enactors, including Patrick Henry. (Is the same guy who was at the Card Check forum at the Omni on Tuesday? And if so, might he have the only recession-proof business in Richmond?)
BizSense was there with video. Pay close attention to some of the creative signs, including, "Don't tax me bro."
We apologize in advance, if at the end of our video it seems a little like Bill and Ted's history project from the movie Bill and Ted's Excellent Adventure. Those who are fans of the movie will understand what we mean.