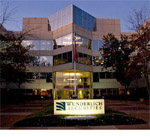 Anderson Strudwick will officially lose its independence.
After a false start, the locally-based financial services firm will be acquired by a Tennessee-based financial services company. The price tag on the deal has not been released.
Anderson Strudwick's president George Nolde confirmed in a phone message yesterday that shareholders at the company, which was one of Richmond's last independent brokerages, approved a stock sale this week to Wunderlich Securities.
RBS was unable to learn the exact price of the deal, but it might have been about $43 a share. RBS could not learn how many shares were outstanding.
The original deal was delayed in late January, probably because Wunderlich wanted a lower price. At the time, Nolde told RBS, "The volatility of the markets and its impacts on investment firms precluded us from closing under the original conditions." At the time, Nolde said that Anderson Strudwick would be maintaining its name and independence.
Wunderlich was founded in Memphis in 1996. The firm also has offices Chicago, St. Louis and Houston.
Aaron Kremer is the BizSense editor. Please send news tips to [email protected]