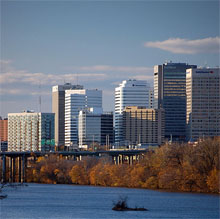 The 5,000-square-foot office building at 1100-1193 Jefferson Green Circle in Chesterfield was purchased by private investors for $2.28 million from Goode Land Co.
Central Virginia Health Network leased 14,800 square feet at 4900 Cox Road in Henrico.
Thalhimer reports the following deals:
Mason Place LLC purchased the 35,400 square foot Warwick Commercial Center at 6705-07 Warwick Road in Richmond for $1.98 million from Paige Properties.
Old Republic National Title Insurance company subleased 4,800 square feet at 901 E. Byrd Street in Richmond.
Outback Play Systems, a producer of backyard play equipment, leased 3,500 square feet at 11415-A Midlothian Turnpike in Chesterfield.
Anatolia Grill leased 2,600 square feet at 12131 Chalkley Road in Chesterfield.
Put Family First LLC leased 1,300 square feet at 5516 Falmouth Street in Henrico.
Hawks Bar-BQ leased 1,000 square feet at 8191 Brook Road in Henrico.
Grubb & Ellis | Harrison & Bates reports All Dog Adventures leased 11,600 square feet at 4111 W. Clay St. in Richmond.
Kuehl, Sheperd, Kozlowki, & Associates , an accounting and financial service firm, leased 7,400 square feet at 9030 Stony Point Parkway in Richmond.
Youth Services of Virginia LLC leased 2,300 square feet at 6802 Paragon Place in Henrico.
Global Medical LLC leased 2,200 square feet at 2600 E. Parahm Road in Henrico.
CB Richard Ellis reports HomeChoice Partners, Inc., a home-base therapy provider, leased 7,200 square feet at 305 Ashcake Rd. in the Hanover.
Al Harris covers commercial real estate for RBS. Please send story tips of news of pending deals to [email protected]