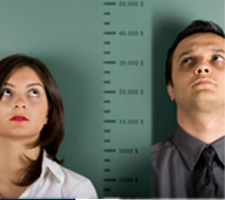 There are few things a company guards as closely as how much employees get paid. But there might not be much to hide. In a recent BizSense/Titan Group study, the salaries of a handful of fields stack up about how you'd expect.
Accountants make more than mechanics, who earn almost twice as much as housekeepers. Human resource managers have a median salary of $78,600, while receptionists make an average of $31,300.
The real twist comes on page 33, with the pay of chief executives.
Chief executives of nonprofits make only slightly less in salary than their private-sector brethren. But total compensation begins to lag the private-sector workers when you take into account year-end bonuses.
The median chief executive pay for a not-for-profit organization was $205,835, or about $21,000 less than in the private sector. However, the median private-sector bonus was $50,000, while the median not-for-profit bonus was $25,750. That means that the median pay for a private-sector chief executive is about $50,000 higher than that for a nonprofit chief executive.
There is some good news for rank-and-file employees: In the study, which was completed by 98 local companies and organizations, the median salary increase that companies self-reported was 3 percent.
That likely means that the most skilled workers at companies across Richmond might see a raise this year, according to Lee Weisiger, a partner with the Titan Group, who complied and assessed the data.
However, that 3 percent is a full percentage point below the normal raises for most years in the past decade, Weisiger said, and it doesn't take into account furloughs or companies that have gone out of business, leaving their employees with no work.
Human resource directors on the whole said they were more concerned about maintaining staff than recruiting new workers. "Companies will do things to keep morale up, to keep them happy. Most companies have kept most of the valuable people. And HR issues have gone from training or managing turnover to managing morale and costs," Weisiger said.
"Take care of survivors," he said.
One reason executive pay was lower this year than in years past was the lower pay of publicly traded companies. That's because chief executives have significant compensation tied up in options and stock grants, said Pamela Weinarcht, director of compensation for Bon Secours Richmond. Weinarcht has also worked in human resources for LandAmerica and Philip Morris.
Weinarcht also said that what is a disadvantage to job seekers is a boon to companies looking to hire. The quality of labor is higher than even a year ago, she said.
"There are just so many people looking. A friend was hiring a receptionist, and he used to get 25 applications. This time he got 75 in 45 minutes, and he can choose a crop he never thought about."
About the study: The Titan Group conducted the study by emailing a questionnaire to human resources representatives across Richmond. Richmond BizSense was a partner in the study. Ninety-eight companies responded, of which 46 were in the private sector, 26 were nonprofits, 15 were public companies and 11 were in government. The median number of employees at participating organizations was 200.
Some other average salaries:
Level III accountant: $60,010
"May assist in analysis and interpretation of records, may supervise bookkeepers, clerks. Requires bachelors degree and a minimum of 4 years of accounting experience."
Chief executive:
Government: $204,000
Not-for-profit: $305,835
Private: $227,027
Public: $463,963
Chief financial officer:
Government: $130,000
Not-for-profit: $129,500
Private: $164,500
Marketing manager:
Not-for-profit: $62,518
Private: $80,444
The full results of the survey are available from the Titan Group.