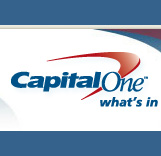 Capital One Financial Corporation is cutting 58 jobs from its US Card division. About 40 of the cuts are in the Richmond area, and the rest will be at the company's headquarters in McLean. About 6,700 people work for Capital One in Richmond, not counting the recent layoffs.
The affected employees will wind down their roles over the next couple of weeks and enter a 60-day redeployment period in May, said spokeswoman Julia Rakes. During the redeployment, those employees will receive career planning support, including counseling and training. Those employees who don't find new jobs within the company will be eligible for full severance packages and outplacement services.
The US Card division services credit card accounts. The company noted concern over the growing amount of credit card debt in its first quarter report. The company projects losses in its credit card portfolio in excess of 10 percent in the coming months.
"The US Card business is making some organizational shifts and select foundational changes now that are designed to position the business for continued success on the other side of the economic cycle," Rakes wrote in an email.
Capital One reported a $112 million loss in the first quarter as defaults on credit card loans rose more quickly than the company had predicted.

Al Harris is a BizSense reporter. Please send news tips to [email protected]