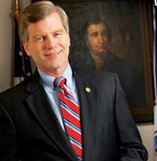 If campaign contributions are any indication, the Richmond business community is rallying behind Republican Bob McDonnell to become Virginia's next governor.
McDonnell has far surpassed his rivals in fundraising among Richmond business and trade associations by raising $99,472 from local private enterprise in the first quarter, according to the Virginia Public Access Project. He also led in donations from Richmond businesses in 2008 for a total of $179,371.
The former attorney general's top local business donor in the first quarter was the Richmond office of Verizon, which plunked down $50,000. McDonnell also received a $10,000 donation from Universal Corporation and Star Scientific, both large tobacco companies. He received $10,000 from fuel distributor Massey Wood and West.
McDonnell's largest donations from Richmond businesses in 2008 were $35,000 from Altria and more than $52,000 from Dominion.
While McDonnell has the benefit of being the sole nominee from his party, donations from Richmond business to the three Democratic candidates paled in comparison, especially during the first quarter.
Democrat Brian Moran raised $6,554 from Richmond businesses in the first quarter. He raised $70,700 in 2008.
Terry McAuliffe raised $2,900 during the first quarter, all in the form of in-kind services. In 2008, McAuliffe raised $10,500.
Deeds had a sole donation from a Richmond-based business in the first quarter, a $5,000 donation from Dominion. Deeds raised $36,762 last year.
Some of Richmond's top executives have also been funding campaigns. Thomas F. Farrell II, CEO and president of Dominion, has donated more than $26,000 to the McDonnell campaign. Thomas Chewning, chief financial officer of Dominion, gave McDonnell $10,000.
Allen B. King, recently retired CEO of Universal Tobacco Leaf, also donated $10,000 to McDonnell.
Rick Sharp, onetime CEO of Circuit City, donated $2,432 to McDonnell in the form of in-kind air travel. (Private jet, perhaps).
Bobby Ukrop, president and CEO of Ukrop's Supermarkets, gave $1,000 to the McDonnell campaign. His brother Jim Ukrop, chairman of First Market Bank, has given Moran $12,500 since the beginning of the campaign cycle.
Also donating to Moran's campaign: Stuart Siegel, chairman of S&K Famous Brands, and Billy Jefferson Jr. of River City Real Estate. Both gave $10,000.
Michael Szymanczyk, CEO and chairman of Altria, donated $10,000 to McAuliffe. Tom Capps, retired president and CEO of Dominion, gave McAuliffe $2,500. McAuliffe has refused donations from the Dominion political action community because of their resistance to government mandated alternative energy.
McDonnell leads in overall contributions, with a running total of more than $3.49 million, followed by McAuliffe with $2.43 million. Deeds has raised $1.21 million, and Moran has raised about $824,000.
Al Harris is a BizSense reporter. Please send news tips to [email protected]