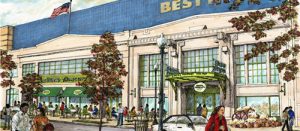 Natural grocery store Ellwood Thompson's announced Friday that plans to open a store in Washington have been put on hold indefinitely.
The planned 15,000-square-foot location was slated to open this fall in the DCUSA  mixed-use development in the Columbia Heights neighborhood.
"We are still talking to the developers. We love the location," said company spokesperson Cyndi Watkins. "It's just not prudent to expand into a new market with the economy the way it is."
There was no timeline announced for when they might go forward with the project.
Watkins said that plans to develop a store there had been in the works for about two years and that Ellwood Thompson's signed a lease there a year ago. The company, which is locally owned and operated, can not pull out of the lease and will continue to pay rent at that location, Watkins told DCist.com.
The grocery store, known for its organic and local foods, was enjoying double-digit sales growth until 2008, Watkins said. Last year was the first the company experienced a decline in sales. She said they started to see an upward trend in the first quarter, but nowhere near the level that they experienced two years ago.
Meanwhile in Richmond, the company recently completed a 4,000-square-foot addition to their flagship Carytown store, as well as the opening of an upscale coffee shop across the parking lot. More than $313,000 worth of renovations was done on the two buildings, according to city work permit data.
The coffee shop has Richmond's most expensive coffee maker. You can read about that here.