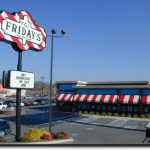 Five is the magic number.
First it was the $5 footlong at Subway. Now T.G.I. Friday's is going on the offensive with its own $5 meal.
Starting Monday, Friday's will offer all salads and sandwiches for $5 during the month of May.
These days, restaurants are using cheaper prices as a tool to take a bite out of the recession.
"It's not just Friday's, everybody's doing it," said Bill Vaughn, chief executive officer for the United Restaurant Group, which owns six T.G.I. Friday's in the Richmond market and 32 along the East Coast. "Casual dining is working very, very hard to drive traffic."
In addition to Subway and Friday's, Chili's has reduced prices, and Quiznos is offering a $4 footlong.
Gerrard "Smitty" Smith, assistant manager at Applebee's at Short Pump, said his restaurant is offering numerous price incentives to bring customers in.
Customers who spend $15 are given a $5 off coupon that is good for their next visit, Smith said. Applebee's also offers a punch card that knocks $10 off after a customer's sixth visit.
Like Friday's, Smith said his restaurant has "to offer discounts to keep customers coming in."
To compound the problems with the economy, Smith said several new restaurants have opened up near his Applebee's and he thinks that's also hurting business.
He said sales over the past two weekends compared with last year were well down. Smith said the restaurant did $7,000 on Friday and $6,000 on Saturday. He said a year ago it was $10,000 a night.
Getting people in the door is clearly the biggest problem for restaurants these days, said David Urban, chairman of the marketing department at Virginia Commonwealth University.
Urban said diners can expect cheaper-priced meals for a long time because their fortunes are tied to the employment rate. Since employment is a lagging indicator, it will be one of the last areas of improvement as the recession ends.
While this is a good strategy for restaurant owners in the short run, it could have some lasting ramifications, Urban said.
"Once consumers get used to getting something for less, it's really hard to get them to pay more," Urban said. He cited how Taco Bell revolutionized the fast food industry during the recession in the early 1990s by pushing everyday low-cost meals that others in the industry had to follow.
Vaughn acknowledges that it comes at a cost to offer $5 meals his Friday's franchises, but he said once you get people in the restaurant they might be attracted to other things on the menu.
Asked if the $5 deal will be extended after May, Vaughn said, "It will either be extended or we will come up with another promotion."
He said he is seeing some signs of improvement and thinks the second half of the year will be better than the first for the restaurant industry. January was the worst month of the year and he's noticed that the job loss numbers appear to be slowing.
Vaughn said sales at his T.G.I. Friday's restaurants are down about 4 percent to 5 percent overall. But he said the impact varies from market to market. Sales at his store in Raleigh, N.C., for instance, are running ahead of last year, he said.
Still, Vaughn said the promotions will continue.
"If you just sit and do nothing in this economy, you may be the one who does not survive."