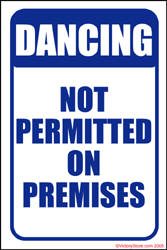 County Rib & Ale in Chesterfield, the restaurant cited for dancing violations in March, has closed the Midlothian Exchange reports.
From the article:
As for the business, the doors permanently closed Sunday, April 26. "I have $400,000 invested," said Donald Quicke. "The county has just bankrupted it. There is a possibility I might lose my home."
The Midlothian Exchange reports the owners and an employee appeared in a Chesterfield courthouse last week to face five charges of operating a nightclub without a cabaret license. The case was continued until later this month.
A nearby Mulligan's has a hearing this month for violating the same ordinance. The article said that at least one other business had been charged.
Other restaurants in the county, including a karaoke bar, are rushing to get permits to avoid the county dance patrol, according to the article.
Previously on RichmondBizSense: No shirt, no shoes…no dancing?