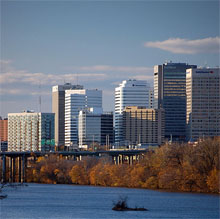 Thalhimer reports Kimages Wharf Associates L.C. purchased 800 acres of land on Route 5 in Charles City County from Creswick Management for $4.5 million as an investment. The farm land has 3,000 feet of frontage on the James River.
Central Virginia Health Network leased 14,700 square feet at 4900 Cox Road in Henrico.
Health Diagnostic Laboratory leased 8,300 square feet in Biotech 8 at 737 North 5th Street in Richmond.
Altius Associates, a private equity firm based in London and Richmond,  leased 6,700 square feet in Reynolds Office Building at 6641 W. Broad St. in Henrico.
First Virginia Financial Services LLC leased 1,00o square feet at 3219 S. Crater Road in Petersburg.
Chicken Fiesta, a local rotisserie restaurant, leased 1,800 square feet in Merchants Walk Shopping Center at 7540 W. Broad St. in Henrico. This is the second location for Chicken Fiesta; the first is on Midlothian Turnpike.
Tucker Psychiatric Clinic leased 1,200 square feet at 1000 Boulders Parkway in Chesterfield.
CB Richard Ellis reports Sheltering Arms Hospitals leased 19,000 square feet at 140 E. Shore Drive in Henrico.
Mar-Mac Transportation Services, a local passenger transport company,  leased 7,350 square feet at 3000 Impala Place in Henrico.
Liberty Property Trust reports Synergy Installation Services leased 19,600 square feet at the Fairgrounds Distribution Center – Building C on Carolina Avenue in Henrico.