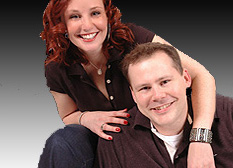 As part of nationwide cuts, radio giant Clear Channel Communications split up a popular morning show duo on Q94 94.5 FM.
Sid Kelly, of the Sid and Melissa Morning Show, was fired from the station and the show disbanded. It has been replaced it with The Elvis Duran Morning Show from Z-100 in NYC.
The other half of the duo, Melissa Chase, has been moved to an afternoon slot and is the only remaining local DJ at the station.
In all, three full-time employees and three part-time on air personalities were eliminated from the station.
Now the station's listeners are starting to react by signing an online petition created by a fan of the morning radio show. More than 560 have signed so far.
From the petition:
We also don't like this decision because in Richmond there is very little variety in the choices of radio stations and this decision makes the variety even slimmer. The canceling of the Melissa and Sid Morning Show will surely result in a decrease in listeners because there are very loyal fans.
According to the Radio Business Report, the layoffs could have back fire on the station:
Clear Channel is desperately trying to lower costs in this tough ad environment—and trying to make loan covenants on stations it bought over a decade ago that were much more valuable than today. But seriously, folks, let's not implode the business altogether.
Nationwide, Clear Channel cut 600 jobs. The company also laid off the Richmond area public-service coordinator and a technical director at WRVA. On-air staff at the company's other area stations were not affected, the Times Dispatch reports.
Clear Channel, based in Texas, is the country's largest radio ownership group with more than 900 stations.