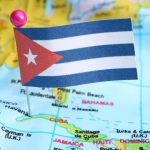 Cuban American business owners and professionals in Richmond are not on the fence about President Obama reaching out to the island that the United States has kept an embargo on almost five decades.
They either love the gesture or they hate it.
"It's pretty much anybody over 50 is for the embargo and pretty much anybody under 50 is against it," said Manny Mendez, co-owner of the popular Fan restaurant Kuba Kuba.
Mendez, 46, thinks it's long overdue for the United States to reach out to Cuba to re-establish the friendship the countries once had.
"I've been against the embargo since the '80s," Mendez said. "If we would give Cuba the money we give to Israel in one day for medicine and food, we would win them over."
Not so fast, says Omar Gonzalez, 57, owner of Dish Network Retailers in Chesterfield County.
"President Obama is not putting any conditions on the Castro brothers to reestablish relations," Gonzalez said. "We've been suffering for 50 years in Cuba under the Castros."
He says for the U.S. to normalize relations, Cuba should agree to hold free elections and to release political prisoners that have been held for years. Gonzalez said he had a cousin who was imprisoned for 25 years as an enemy of the state.
Gonzalez, however, thinks the embargo has not worked to exert pressure on the country.
"I think if we do commerce with Vietnam, we should do it with Cuba," Gonzalez said. "Castro has used the embargo to cry about the policies of this country."
Virginia officials, meanwhile, have been studying what open trade would mean to the state's bottom line.
"There certainly are a wide variety of companies that could share in the development," said Paul Grossman, director of international trade for the Virginia Economic Development Partnership.
He says the state has already been dealing with Cuba in agriculture and has had some recent success selling apples there.
If Cuba was opened up, though, Grossman said the thing that would be at the top of the list is rebuilding the infrastructure – airports, telecommunications and power generation.
That would be followed by consumer products, which would give Cubans a variety that they don't have now. The next phase would be building up services, especially in the area of tourism.
There is no dollar estimate as to what normalization could mean for Virginia, Grossman said, and it's unknown as to where the money would come from for redevelopment. It would have to come from international sources such as the World Bank.
Mendez is very excited about the business prospects. "Think about soybeans, corn, tobacco. Think about MeadWestvaco [paper products]. There is no toilet paper in Cuba. There are no toilets. Pleasants Hardware could make a million dollars."
Both Mendez and Gonzalez were born in Cuba and still have relatives there. Mendez came here with his family from Cuba when he was 6 from Camaguey to escape the repressive conditions. Gonzalez came here at 29 from Havana as part of the 1980 Mariel boatlift.
"I'm not saying Castro isn't an evil man, he is," Mendez said. "But it's time to make up."