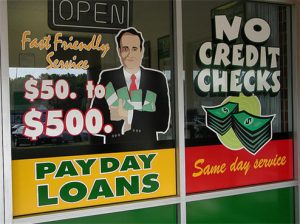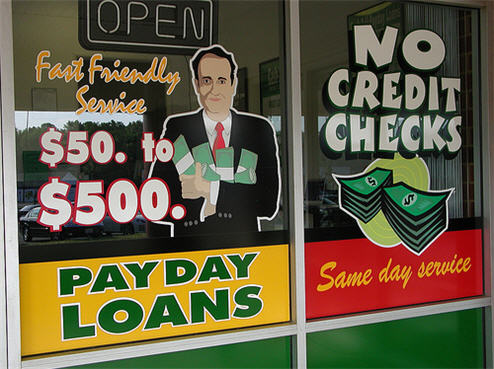 Cruising down Broad Street between Virginia Commonwealth University and suburban Short Pump, you'll see a string of businesses with names like Cash Advance, Cash-2-U and Fast Payday Loans. They'll lend you money until your next paycheck – at interest rates critics call exorbitant.
The 23230 Zip code has one of the highest concentrations of payday lending stores in Virginia, with almost one location for every 1,000 residents. The area is among the poorer sections of metro Richmond, with a median household income about $10,000 below the state average.
Payday lenders offer short-term, high-interest loans to consumers using the borrower's paycheck as collateral.
Until last year, such businesses could charge $15 for a two-week $100 loan – amounting to a 391 percent annualized interest rate. The General Assembly capped the rate at 36 percent, making the fee for a two-week loan $1.38.
So some payday lenders started offering a different kind of loan, called an open-ended loan, which is not closely regulated. This year, the General Assembly responded by passing a law prohibiting payday lenders from providing open-ended loans. On April 8, legislators approved Gov. Tim Kaine's recommendation that the law take effect immediately.
The result: Several payday lenders – such as Check 'n Go and Allied Cash Advance – are leaving Virginia. Advance America, which operates the Cash Advance Centers of Virginia, is on the ropes, too.
"The 36 percent rate cap would put us out of business," said Jamie Fulmer, spokesman for Advance America, the nation's largest payday lender. "We would only make $1.38 per two weeks – less than 10 cents a day. We wouldn't be able to pay our workers or landlords."
Some see the demise of payday lenders as inevitable.
"People who have stocks in these businesses have seen the regulatory climate is changing, and so it's not a smart place to put long-term stock money into," said Stephen Graves, a geography professor and payday loan expert at California State University at Northridge.
"I think there will not only be a decrease in the rate of growth, but I think there's a chance that the industry will be eliminated all together," he said.
Good riddance, say payday-loan critics such as Dana Wiggins of the Virginia Poverty Law Center. She says such loans trap consumers in a cycle of debt: "People become dependent on them."
LaTonya Reed of the Virginia Interfaith Center for Public Policy agrees.
"It's our essential belief that it is unacceptable to charge excessive amounts for loans based on the teachings of various traditional faiths," Reed said.
However, proponents for the industry argue the opposite: that payday lenders provide a valuable service to average Americans who find themselves in unexpected financial binds.
"We focus on high-population retail areas near where citizens work, live and shop," Fulmer said. "It's the mainstream middle class who from time to time need support."
[youtube]http://www.youtube.com/watch?v=dRUAH0XgDvE[/youtube]
Payday lending customers encompass a range of people, but lenders cluster in specific geographic locations. Virginia's lower-income Zip codes have more payday loan locations than higher-income Zip codes, according to analysis by Capital News Service.
Graves has found a similar pattern among payday lenders in other states.
"They locate themselves among the desperate, and that's what makes them predatory," Graves said. "If they were evenly distributed, and they were a product that everyone could enjoy, then their site-location strategy would be to spread out."
CNS analyzed the location of the 598 payday loan stores registered in Virginia as of April 7. The analysis examined the number of payday lenders by Zip code and by Zip code tabulation area. (A ZCTA is an area based on the first three digits of a Zip code.) The analysis also included income and poverty data from the U.S. Census Bureau. A map of the state's payday loan locations is available here.
Overall, Virginia had about eight payday loan stores for every 100,000 people. The state's median household income was $46,677, and 9.6 percent of Virginians lived in poverty, according to the latest census data.
The 232 ZCTA, which encompasses Richmond, had about 11 payday loans stores per 100,000 people for a total of 55 stores. The median household income there is $41,342 and more than 12 percent of residents live below the poverty line.
Areas with the most payday lenders per capita were much poorer than the state as a whole:
Portsmouth had about 25 payday loan stores per 100,000 people. The area had a poverty rate of 16.2 percent.
Norfolk had about 20 payday loan stores per 100,000 residents. Its median household income was $25,827, and its poverty rate was 18 percent.
Southwest Virginia had about 15 payday lenders per 100,000 residents. Its median household income was $31,864, and its poverty rate was 19.3 percent.
The pattern held true for Zip codes, too. For instance, 29 Virginia Zip codes had more payday lenders than banks. The Census Bureau had demographic data on 23 of those Zip codes (the others were newly created). Of those 23 Zip codes, 21 had a median household income below the statewide median.
The opposite end of the spectrum is also telling: High-income areas had few payday lenders. For example, the 221 and 201 ZCTAs – swaths of Northern Virginia with median household incomes of almost $78,000 – each had about three payday lenders per 100,000 residents.
"They're not in my neighborhood, I know that," Graves said. "And I'm a white guy from the middle class."
His research has found that payday lenders congregate near military bases. Graves wasn't surprised that Portsmouth and Norfolk, which have a large number of military personnel, had a large number of payday loan operations.
"Those are the heaviest concentrations in any state almost without fail," Graves said. In most states he has studied, the "Zip code with the highest concentration of payday lenders was adjacent to a military base. How could you say you're not targeting the military?"
In Virginia, Zip code 23452 had the most payday lenders: 14. That's next to Oceana Naval Air Station in Virginia Beach.
In 2006, the federal government enacted a law to prohibit lenders from making loans in excess of 36 percent interest to military families. Congress was responding to allegations that payday lenders were preying on military personnel.
But payday lending operations maintain that they are not targeting specific groups.
"That's an allegation in which the facts of the matter don't match," Fulmer said.
He characterized the average payday loan customer as a homeowner with a middle income, a high school diploma and some college experience.
The customers are people like Brenda Cherokee, who was at the CheckSmart store, 4503 W. Broad St., on a recent Wednesday. Cherokee had just made a payment on her fifth payday loan from the past year.
"I chose it over other options because it was an immediate need, and I didn't have enough to cover the expense in my savings," she said.
Cherokee, a nurse, said she uses payday loans responsibly and pays them off as soon as she can.
"Some people don't," she said. "They borrow more than they can afford, and then they find they can't dig themselves out of that hole."
Sara Griffith and Josephine Varnier are journalism students at Virginia Commonwealth University. They contributed this report through the Capital News Service.