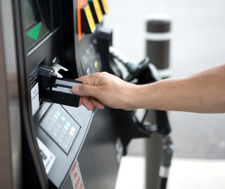 The average price of gas in Richmond is $2.21 per gallon, up 28 cents from about a month ago. That's costing the average motorist an extra $2.12 per week.
If the price increase were to hold until the end of the year, the average driver would shell out an extra $110 this year – about 27 Starbucks lattes.
Granted, that may not seem like much, given that last year at this time we were all paying $3.71, but for businesses the worry is twofold: Rising gas prices add to costs (we all have to drive to meetings or deliver supplies), and they  drain consumer spending power, which means Joe McShopper forgoes even more lattes and DVDs.
Until now, low energy costs have been one of the few bright spots.
The average Richmond driver puts 145 miles on his car each workweek in a car that gets about 20 miles per gallon, according to Department of Transportation statistics.
Some businesses, like TNT Limousines service, groan whenever gas prices start rising.
"Obviously, it becomes harder for us to operate our vehicles," said Danny Begley, general manager at TNT. "But generally we don't raise our rates."
"The only time we had to do that was last year, when we were paying $4 and $5 per gallon for gas," he said.

David Larter is a BizSense reporter. Please send news tips to [email protected]