The views expressed in Guest Opinions represent only those of the author and are in no way endorsed by Richmond BizSense or any BizSense staff member.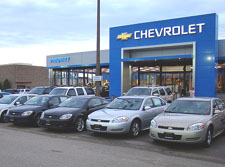 A few weeks ago, on the heels of Chrysler declaring bankruptcy, 789 Chrysler dealers were thanked for their time, effort and energy, and then told to close their doors.  Airport Chrysler Jeep, operated by Lawrence Motor Company, is on the list of eliminated dealerships, as well as Pearson Dodge in Midlothian.
Late last week, in spite of the fact GM has not yet declared bankruptcy, although I do believe they will, 1,000 GM dealers heard the same refrain, although which local dealers were let go was not publicly known.  I understand that sometime in the next 30 days, more GM dealers will be told their franchise will not be renewed.
The pain will spread. Parts manufacturers, uniform companies, professional service providers and other assorted vendors will feel the ripples.  And more directly, dealerships generally employ 40 to 50 people, each of whom must now find new work.
And, what about the families who own the dealerships that are being told to close?  While there may be some Darwinian survival of the fittest going on here, let's be clear.  These closures are not being mandated due to the financial performance of the dealerships involved.  Any number of these dealerships is probably solvent.  But in spite of that solvency, these families are going to be forced to find a new means of support.  I know several of the folks involved here in Richmond and have a great deal of empathy for them.  I also know these very same people will survive.  They are creative, passionate, committed people who will each come to redefine their own success.  Currently however, through some process which included metric analysis, performance review, political connections and the omnipresent "other considerations", thousands of these franchises, representing brands long said to be iconic, will be gone.
There are two points of irony here, both striking. First, twenty years ago Chrysler was in deep trouble.  There was a period of time during which Chrysler is reported to have reached out to select dealers and asked them to help Chrysler make payroll for that period.  Select members of that group are now being told by Chrysler they do not pass muster.
The second point is one I can relate to more directly.  I own five Midas Auto Service franchises, and know what it means to be a locally owned and operated franchise.  GM declaring bankruptcy does not, in any way, mean the Chevy dealer you have always dealt with may be headed towards that end.  However, the actions taken by GM and Chrysler will create the perception that your local store may be soon to follow.  In fact, it is business as usual for the most part, and I urge consumers to think about that.
And what about the GM and Chrysler dealers left standing?  Original equipment direct purchases represent about a quarter of all wholesale purchases my business makes each year come directly from area dealers.  A week, or so, ago I called a local Chrysler parts counter for a water pump on a van. The Parts Manager informed me that the part is now on national back order.  He said it seemed a number of supplier were no longer willing to sell Chrysler parts due to concerns about getting paid.  Supply chain issues, the perception of the public, whatever governmental management mandates come out of Washington – these are all very real issues every remaining dealer will face.