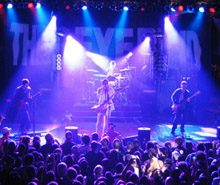 It's official: The music will not play again at Toad's Place. At least not at a venue with that name, and not anytime soon.
On Monday, Toad's Place of Richmond LLC filed for Chapter 7 liquidation in U.S. Bankruptcy Court.  The club closed in March when the landlord changed the locks. At that time, the venue fell four or five months behind on its $40,000 rent. (Click here to read about how the business got into trouble.)
The company has between 100 and 199 creditors, although several names on the list are not, in fact, owed money, according to sources who saw their names and believe they are not owed money.
Other companies and organizations on the list include local magazines, retailers, radio stations and the City of Richmond, which may be owed tax money. First Market Bank is also on the list. The bankruptcy filing says Toad's Place owes creditors between $500,000 and $1 million.
The current assets are likely under the control of the landlord, Fulton Hill Properties, and could include the sound equipment. Fulton Hill Properties did not return a call seeking comment.
The law firm of Phillips & Fleckenstein, which is representing Toad's Place, did not return several calls seeking comment.
Several of the venue's investors are also listed as creditors, including Christopher Francoise, Charles Joyner, Mark Stoltzfus and Nevan Chang.
Aaron Kremer is the BizSense Editor. Please send news tips to [email protected].