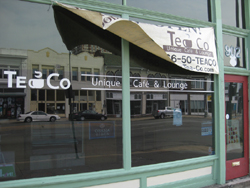 School's out for summer. But what's good for students is not so good for businesses near Virginia Commonwealth University – especially when summer break falls in the midst of the worst recession in decades.
The rapid growth of VCU attracted a number of businesses hoping to cash in on the expanding student body. But apparently students are a fickle bunch: Several new businesses around campus have shuttered their doors in recent months.
The economy has spurred high vacancies in Carytown and area malls, and VCU retail space has proved to be no exception. Things are so bad that even some landlords are planning to get out of the game.
Cuppa Tea is among the recent causalities of the slow business environment around campus. The tearoom, located near the intersection of Morris and Main, recently closed its doors after about two years.
Allan Wagner, who owned the shop with his wife, Lurline, said things were going fine until the fall.
"The first 10 days of September, we were ahead of September our first year," Wagner said. "Then the bottom dropped out."
Wagner said the shop primarily catered to people with disposable income, and when customers lost confidence in the economy, they stopped coming in.
As sales dropped off, Wagner said they started falling into the hole. Their accountant recommended asking for a reduction in the rent. Wagner said the landlord flatly refused his proposal to defer $1,000 a month for six months until the end of the lease.
"In today's world, I found that a little bit disconcerting," Wagner said.
Perhaps part of the tearoom's problem was their difficulty in developing a student customer base.
"When we opened, we decided we would try to do something nice and elegant and first-class," Wagner said. "I think a lot of what I saw walk past the front door weren't the type who would come in have a cup of tea – you know, your tattoo- and piercing-laden student of today."
Wagner said that when they first opened, they participated in a few school events and did some marketing at the student commons but didn't see many results from their effort.
Without a student base and other customers coming fewer and farther between, Wagner said they found themselves with their backs against the wall. Instead of dipping into savings, he said, they decided to cut their losses and close the shop.
"We were in a hole," Wagner said. "We couldn't continue to dig deeper. It would only have lengthened the time it would take to get out."
Cuppa Tea will maintain an online presence for its retail and catering business, and Wagner said he and his wife hold out hope of opening another location someday, somewhere.
Across campus, on the north side of Broad Street between Laurel and Gilmer streets, a strip of shops that were open a year ago have all closed their doors. A nearby Ukrop's at Grace and Harrison streets has also closed.
Tea-Co,  another shop serving tea and light fare, has closed for the summer and is selling its products at 17th Street Farmer's Market and Lakeside Market.
Manager Yasmine Bey confirmed that the business planned to reopen its retail location in August.
But several of the other businesses around Tea-Co have shuttered indefinitely, if not forever, including Apex Digital gaming lounge, Wireless Toyz cell phone store, Ramakins restaurant and Common Groundz coffee shop.
The slow retail landscape is proving a huge headache to local landlords, who assumed VCU students would support new businesses.
Emory Powers, who owns the Broad Street building recently occupied by Common Groundz, said he is ready to sell the building and get out of the real estate game.
"I'm just tired of this," Powers said. "I was hoping to get a nice restaurant in here and have it be a gift of the community."
Powers has the building for sale for $600,000, which is $130,000 less than the assessed value. He said he has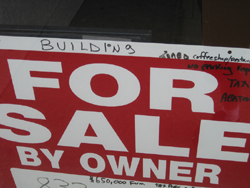 gotten a few nibbles from potential tenants since the owners of Common Groundz broke their lease in May, but none of them have been compatible with the upstairs apartment.
"I'm ready to just cash out and move to Costa Rica," Powers said.
He said that the economy is a big part of the problem but also that lingering racial and economic issues tied to the neighborhood's gentrification are flaring up. He said he believes the area still has potential, but, after 40 years
flipping real estate, he doesn't have the patience for it anymore.
Common Groundz had opened originally as a hangout for people recovering from addiction. Owners Mark Fichter and Scott King were recovered addicts. Powers said the business started out well at first but eventually the regular clientele started to taper off and the business started bleeding money.
"I used up all $4,500 of the security deposit to help them through the bad months," Powers said.
BizSense wasn't able to find contact information for the owners, but Fichter told Richmond.com last year that the business wasn't sustainable when school wasn't in session.
"Once the students leave, our sales drastically drop off," Fichter said in the article. That story was about their struggles in staying open.
Although some businesses have been able to stay open on this particular block, such as Velocity Comics and the Richmond Book Shop, at least one other property owner appears to be giving up on its commercial viability. Clachan Properties is in the process of converting an empty retail store into three apartments on the 800 block of West Broad.
Lindsay Velasco, operations manager for Clachan, said the property had been empty for more than six months.
"We can't lease commercial, but we can lease residential," Velasco said.
So the company decided to turn it into apartments. Velasco said they already have one tenant.