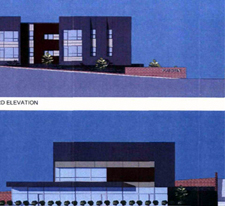 One of Richmond's first modernist hotels might soon be demolished to make way for a mixed-use center, including residences for adults with developmental disabilities.
The former Executive Motor Hotel, built on the corner of Broad Street and Willow Lawn at what was then the suburban edge of the city, sits empty, surrounded by a chain link fence. All the rooms' doors are open, and, from the sidewalk, it appears they have been stripped bare in preparation for the wrecking crane.
At their last meeting, the Henrico County Planning Commission recommended approval of a proposal to demolish the hotel to make way for up to 45 residential units and up to 10,000 square feet of office and retail space.
Despite the abundance of available retail space in that area, the commission also recommended a rezoning request that would allow for the residential component.
Bruce A. Kay, a vice president at Markel Corp. and the principal of the development, could not be reached for comment. The hotel is owned by a limited liability company, 5215 West Broad Street LLC (that's the address of the hotel).
The project will cater to people with developmental disabilities, according to Wendy Kreuter, financial director at the Faison School of Autism, which is located behind the hotel. Kay is also on a board at the Faison School.
Kreuter said the school plans to provide support services to residents with developmental disabilities. Some of the residential units will be rented on the open market.
"The project concept is what we call a 'compassionate community' … where folks with developmental disabilities live side-by-side with typical residents," Kreuter said.
"We realize those folks out of school need to be able to do other things and live as independently as possible," Kreuter said.
The Henrico County Board of Supervisors will need to approve the rezoning.
Hourigan Construction is heading up the construction. The new building was designed by Baskervill.
The property operated as a hotel from 1960 to 2007, most recently under the name Inns of Virginia. It was originally developed by Richmonder Henry Stern, who later was one of the lead developers of Innsbrook.
More Reading:
Style Weekly recently wrote about the history of the building in an interesting piece about Richmond's endangered "space age" buildings.