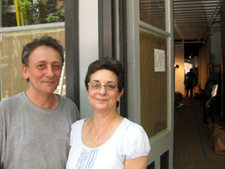 A new French bistro is in the works for Shockoe Slip will open later this summer.
Dubbed Bouchon, the restaurant will dish up Provençal cuisine from chef Francis Devilliers.
Bouchon, which is French for "traffic jam," is being retrofitted at 1209 E. Cary St. in the space previously occupied by Pomegranate Euro Bistro. The owners hope to open at by the end of July for lunch and dinner Monday through Saturday.
Neither Devilliers nor partner Wendy Kalif is from Richmond. The duo scoured the East Coast, including locales such as Long Island and Philadelphia, for a location to set up shop.
"We chose Richmond for many reasons, including the weather, quality of life and the vibrant community," Devilliers said.
He also said they had friends in Richmond who encouraged them to locate here.
Devilliers, who is from France, has been cooking for about 30 years. He was chef and co-owner of Lavandou restaurant in Washington beginning in 1990 and sold it in 2005.
Afterward, he headed for the blue waters of the Caribbean.
"I took a little time off to go sailing," Devilliers said.
Devilliers and Kalif met in St. Thomas, while both were on vacation sailing. They soon started dating and decided to open a restaurant.
Kalif's previous career was with a private Wall Street firm, but she left before the financial meltdown. She briefly operated a private cooking business in New York for people with gluten allergies.
A couple of gluten-free dishes will be offered at Bouchon, she said.
Devilliers said the menu will change month to month. Provençal cuisine is lighter than some other types of French food. The food from Provence, a southern region of France, is more akin to Mediterranean-style dining.
He said his dishes will have an emphasis on seasonal local vegetables and herbs. Diners can expect grilled fish, and in the winter they will be serving daube, a stew made with beef braised in red wine.