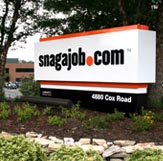 BizSense reported June 1 that Snagajob, one of the fastest growing companies in Richmond, had laid off 6 employees because of new technology that made their jobs obsolete. At the time, we did not make it clear that the peak headcount in December had been 140.
Since that story ran, two sources familiar with the company said that two more have been let go for performance reasons, bringing the headcount  down to 120, or about 14 percent less.
Of the vacant positions, ten of those jobs were vacated through normal attrition, the company said, which can include employees leaving for personal reasons or those whom are dismissed for performance reasons.
Snagajob just hired a full-time recruiter to fill those slots, the company said.
In late May, Founder and CEO Shawn Boyer said that as fewer and fewer companies hire, job posting sites are down by 40 percent.
A former employee who spoke on condition of anonymity said that the company is no longer posting jobs for Home Depot. And on the website, there are no postings for the home improvement chain.
In part, that trend might be because companies can now more easily hire qualified staff on their own.
But despite the sluggish economy, revenue is up 30 percent at Snagajob, compared with last year, according to the company. And Snagajob has additional revenue from advertisements on the website.
David Larter is a BizSense reporter. Please send news tips to [email protected]