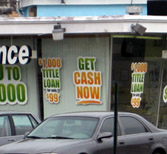 Now that newly passed regulations have severely hampered the payday loan industry in Virginia, lawmakers are setting their sights on car title lenders.
A legislative study committee held its first meeting today at the state capitol to discuss how to approach regulation of car title lenders during the 2010 General Assembly session.
Car title lenders operate under the state's open-end credit law, which allows them to impose whatever loans terms they want as long they do not charge anything during the first 25 days.
Since Virginia passed laws against payday lending, the number of loans has dropped more than 80 percent from the previous year.
From the Associated Press story via the Times-Dispatch:
Last year, Virginia's payday lenders made nearly 3.4 million payday loans, or about 281,000 each month. Through the end of May, lenders had issued 226,807 loans, an average of 45,000 per month — an 84 percent decline, according to the Bureau of Financial Institutions.
The number of stores in Virginia has declined more than 36 percent.
With payday lenders fleeing the state, cash-strapped residents are turning to car title lenders.
And so are opponents of payday lenders.
From the Virginia Poverty Law Center:
Like other types of predatory lending, car title lenders charge a ridiculously high interest rate on its borrowers — 300% to 360% APR.  If the borrower cannot pay off the high-cost loans, then the lender repossesses the car of the borrower.  Many times, borrowers take out these loans in the first place because they need money quickly.  Because of this, lenders target certain groups such as low-income individuals, the elderly, immigrants and military members.
For more reading, check out previous BizSense coverage on the payday loan industry:
Va. regulations chasing payday lenders away
Car-Title Lenders Dodge Regulations