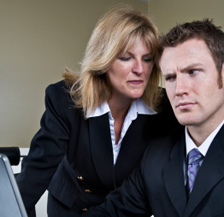 It isn't just women who are the object of unwanted advances in the workplace.
Take what happened to James Kelly, an employee of StarTek, a call center operator that provides services to companies such as T-Mobile and AT&T.
Kelly was employed as a customer service representative at the Delaware-based company's Petersburg call center from January 2008 to April 2008. During that time, Kelly says he was subject to repeated sexual harassment by a female co-worker.
BizSense was unable to reach StarTek for comment.
From the lawsuit filed June 1 in U.S. District Court in Richmond:
Alicia grabbed Mr. Kelley's buttocks during work/classroom hours, one to three times per week. Additionally Alicia would make offensive verbal comments to Mr. Kelly referring to Mr. Kelly's buttocks, such as "Your ass is tight" and "Back that ass up." Alicia would also comment on Mr. Kelly's penis, such as "What you packin'?"
Kelly also claims he was offended by one of the StarTek trainers, Ms. Mendoza, who "talked explicitly about her sex life with the students."
Kelly complained repeatedly to HR and management but said no action was taken. Eventually it became too much to handle:
After Alicia grabbed Mr. Kelly's buttocks, he removed his headset and yelled, "If this doesn't stop, I'm gonna have to quit!" After having endured this abuse and assault for numerous months with absolutely no action being taken by StarTek to remedy the situation, Mr. Kelly was emotionally distraught and frustrated.
After that Kelly was asked if he wanted to resign. Kelly refused and said he wanted a day's leave to recover; he then asked for more time to recover and was refused. Kelly was soon terminated.
Kelly claims the repeated sexual harassment and what he considers a retaliatory firing took its toll:
Mr. Kelly has suffered from severe psychological trauma, including signs of post-traumatic stress disorder, social anxiety disorder requiring large doses of Xanax for treatment, short-term memory loss due to Xanax, insomnia, depression, borderline personality disorder, psoriasis, hair loss, suicidal thoughts, weight gain of 30 pounds, and anger problems.
After losing his job, Kelly lost his house and a car. His lawsuit claims StarTek is liable for loss of substantial past and future salary, awards, benefits and entitlements, loss of professional status and career-enhancing opportunities, and loss of retirement savings and benefits, as well as attorney's fees.
So far no answer to the complaint has been filed, nor has a trial date been set.

Al Harris is a BizSense reporter. Please send news tips to [email protected]