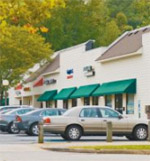 Although a Chesterfield development plan's location is its strength, it's also a weakness.
The 63-acre Cheatham property in the northwest quadrant of routes 288 and 360 has location in its favor, but numerous obstacles have kept a proposed commercial and multifamily project on the site in Chesterfield County's development pipeline for almost two and a half years.
Last week, the board granted the Cheatham family another nine months deferment on their rezoning request. Currently, the Cheatham property is zoned agricultural. The Cheathams want it rezoned to allow 170,000 square feet of office space, perhaps 600 multifamily units and possibly a nursing home.
It's boxed in by Route 288, Hull Street Road, the residential neighborhood of Nuttree, winding Old Hundred Road on the east and the inwardly designed Market Square center.
Market Square is part of the Brandermill Community Association, and BCA leaders are hoping Market Square and the Cheatham property can merge into one development as Brandermill updates its master plan. But Market Square has six or seven property owners, according to the largest property owner, Joe Craig, and that won't make redevelopment easy.
"It's a win-win if we can get everybody onboard to redevelop Market Square when Cheatham is being developed," said BCA Community Manager Jane Pritz. "It could be a wonderful landmark for the county and Brandermill … with major stores and a hotel … so it will take a major developer."
About 25 years ago, Safeway and Peoples Drug anchored Market Square, but those stores have faded from the area's retail landscape, giving way to mom-and-pop businesses.
Commonwealth Centre and Chattanooga Plaza share the same highway intersection, and those centers have grabbed many of the big-box retailers.
The plan calls for tearing down the existing Market Square. Updating the road network –connecting directly to Route 288 and improving Old Hundred Road – will be expensive. Others have looked at the development potential and the cost and moved on. And that was in better economic times.
Craig acknowledged meeting with the Cheatham family and its engineering firm, Balzer and Associates, to discuss what might be possible.
"We want to help if we could, but we haven't followed up because it didn't seem headed anywhere," Craig said. "We're really not interested in selling … but I wouldn't rule it out."
The fire department would prefer a second access road to the Cheatham property, but the proposal calls for direct, emergency access only to Hull Street Road. County planners say they would recommend the project to the board if access and higher proffers were forthcoming.

Greg Pearson runs the Chesterfield Observer, where this story first ran.  The Observer is an RBS news partner.