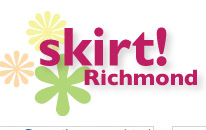 According to Birmingham Business Journal, Media General will shut down Birmingham's Skirt! Magazine.
Ray Kozakewicz said Media General is fully committed in its other markets, according to the story, but this could be a bad sign for the publication in Richmond, which relies on syndicated content and local advertising.  Skirt! is printed on big paper and distributed free around town.
For people who enjoy reading about the business of media, check out this long (and at times rambling) story out of Charlottesville about Media General.
The title is "What do Media General's financial woes mean for The Daily Progress?" – but the story never really addresses that important question.