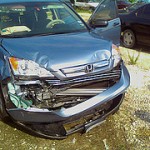 Your morning commute may be a little safer than it was a few years ago.
That's because Richmonders were just ranked among the most improved drivers in America.
According to a survey by Allstate insurance, from 2005 – 2009 Richmonders increased the amount of years between accidents by 1.2 years, making it the 9th most improved city. Overall, Richmond ranked as the 31st safest U.S. city to drive in.
Virginia as a whole decided to shape up behind the wheel because 5 of the 10 most improved cities were in the commonwealth.  Alexandria, Hampton, Virginia Beach and Chesapeake also made the list.
Read the full release here.
In 2008, there were 135,282 car crashes in Virginia. That's down 6 percent from 2007.
While this may good news, it's possible that the improving numbers may just reflect that people have been driving less because of increased fuel costs and tighter budgets.
David Larter is a BizSense reporter, please send news tips to [email protected]