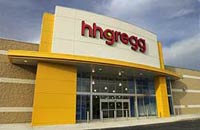 A major electronics retailer is opening multiple stores in Richmond, possibly taking over some locations left behind by Circuit City.
Indianapolis-based HHGregg announced Wednesday they planned to open up to 22 stores over the next year, most of which will be located in Richmond; Tampa, Fla.; and Memphis Tenn. The company did not say exactly where those stores would be located.
One reported location will be at Hancock Village in Chesterfield County.
Developer Doug Horack told the Chesterfield Observer last August that HHGregg would take over the 30,000 square foot store that was originally slated to be a Circuit City location.
From the HHGregg press release:
During the past year, competitive dynamics within the consumer electronics industry and the real estate landscape have changed considerably, with a major competitor exiting the market and substantial real estate availability in both new and existing markets.

BizSense could not reach a representative of the company to confirm how many employees they may hire here, but a recently opened store in Wilmington, North Carolina hired about 45 part and full-time workers.
HHGregg started as small appliance shop in 1955 in Indianapolis. It is still operated by the Gregg family and today has 112 stores located throughout the South and parts of the Mid West. In addition to selling electronics it also sells appliances, mattresses, and luggage.
BizSense has been unable to confirm if HHGregg plans to take over any of the six Circuit City stores around town, but brokers are reported to have been marketing the properties to them since they became available.
The expanding retailer has already moved into former Circuit City stores in Indiana, Tennesse, Ohio and Mississippi.
HHGregg accelerated its expansion once Circuit City collapsed. The company also gave away $50 gift cards towards purchase over $299 in exchange for defunct Circuit City gift cards and credit cards of the same value. It repeatedly extended the deadline for that promotion from February to April and as recently as May 31.
Watch More:
See our most popular video of going-out-of-business sale at Circuit City's Headquarters here.
Al Harris covers commercial real estate for BizSense. Please send news tips to [email protected]