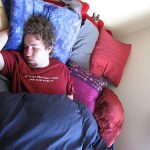 Carpenter Company, a Richmond manufacturer of foam for pillows and mattresses, has launched a new marketing campaign on a website called sleepbetter.org.
The site connects a recent study that showed that Americans think that achieving your dreams connects with how well you sleep.
From the article in Furniture Today.
The survey of 1,000 Americans, conducted by Ipsos Public Affairs, showed that 92% of survey respondents said that sleeping better is a necessary component for achieving their dreams, goals and ambitions, but only 56% said they are getting at least six hours of sleep on a weeknight.
"When it comes to sleep," Schecter said, "there's a gap between what people say is important and what people actually do. At Carpenter, we're working to close that gap – to bring people closer to their dreams."
The campaign, which is cleverly disguised under a dot-org domain name, comes at a time when the mattress industry is struggling. An article in the Canadian Globe and Mail daily reported that sales of mattresses have struggled, unlike in recessions past.
It's new to everyone in his business. In previous economic downturns, mattresses were one of the few bigger-ticket items that people could be counted on to keep buying. Prior to the onset of this recession, U.S. mattress sales have fallen on an annual basis only twice since 1970, according to the International Sleep Products Association. Those years were in the recessions of 1982 and 2001, and both were small declines.
The AP reported today that Sealy Corporation just completed a refinancing of its $177.1 million in debts. At the website sleepbetter.org, you can take a quiz that will match your sleeping habits with the proper bedding products, presumably made with Carpenter Company filling.
One funny note in the press release was a revelation that, "one in three named President Obama as the nation's 'biggest dreamer.'"
The president who managed to achieve his dream, reportedly only gets about 4 hours of sleep a night.
Carpenter Company is located on Jefferson Davis Hwy in the Broad Rock Industrial Park.
David Larter is a BizSense reporter. Please send news tips to [email protected]