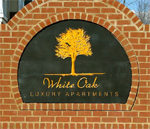 A version of this  story first appeared in the Chesterfield Observer, which is a BizSense news partner.
The county attorney for Chesterfield County has filed suit asking the Circuit Court to order two businesses to stop putting signs along Route 10 that direct people to White Oak Apartments .
If the county prevails, future violations would be in contempt of court.
"The county pursues zoning violations in criminal court every Tuesday, which includes sign violations," said Assistant County Attorney Tara McGee. "This case is in Circuit Court to ask for no sign violations in the future." She declined further comment on the litigation.
The suit, filed last month, asks the court to demand that White Oak Apartments and Chestnut Hills, LLC stop violating the county's zoning ordinance.
The signs are not on public property. The owners of the apartment complex own property with frontage on Route 10 at Chestnut Hill Road in the northeast quadrant of Route 10 and Interstate 95 where portable signs, flags and real estate signs have advertised White Oak Apartments.
There was also a large sign on a truck parked near Route 10 and one on a vacant field visible to northbound motorists on Interstate 95.
The county began warning the businesses in February that they had not filed for the appropriate permits. The ordinance does not allow one business to permit another business to put up signs and banners on its property.
Carrie Coyner, a lawyer representing White Oak, said only rooftops of the apartment complex are visible from Route 10. Coyner said there were other ways to advertise the apartments, but that road signs were particularly effective.
In the spring of 2009, Coyner asked the board of supervisors to review the county's road sign policy and allow businesses with frontage on major roads to permit signs and banners for other businesses without such visibility. The county planning department is studying the request.
"I asked the board to allow White Oaks to advertise [with signs] until a certain percentage of the apartments are leased," said Coyner. "This is a $38 million tax-revenue-generating project for the county."
Coyner believes the county is enforcing the sign ordinance more stringently because a few citizens have become very active in filing sign violation complaints. County enforcement is generally complaint-based.
In addition to the injunction, the suit asks the court to "grant the county its costs and other such relief as may be appropriate."
Greg Pearson writes for the Chesterfield Observer, where this story first appeared.