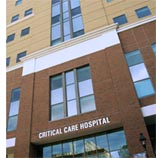 VCU Health System has the third highest death rate for heart attack victims in Virginia and a higher mortality rate than the national average, according to a recent study.
Hospital administrators say that's because the medical center treats a lots of patients who tend to be in worse health than other local hospitals.
According to the study of 4,200 hospitals nationwide, 19.8 percent of the patients admitted to the VCU Health System for heart attacks died. That's 6 percent higher than Bon Secours Saint Mary's, and 3 percent higher than Henrico Doctor's Hospitals.
CJW Medical Center has death rate of 14.1 percent.
The study, conducted by the Center for Medicare and Medicaid (a division  of the Department of Health and Human Services), found that Danville Regional Medical Center had the fourth highest death rates in the nation 23.3 percent.
You can find all the statistics for hospitals nationwide on USA Today's website.
VCU Health Systems provides care for the bulk of Richmond's uninsured and low income population, said George W. Vetrovec, a physician and chairman of the Division of Cardiology at VCU.
"I think those statistics miss the kind of patients we treat," Vetrovec said. "Many of our patients don't just come in with medical problems but social problems as well."
Many of VCU's low-income, uninsured patients have gone years without care, and few have had any sort of preventive care. So those rates are bound to be higher at a place such as VCU Medical Center, he said.
"I think those numbers reflect that we are doing a remarkably good job given the circumstances," Vetrovec said.
Sheryl Garland, the vice president for community outreach for the VCU Medical System, said that about 48 percent of the patients at VCU are either uninsured or on Medicaid.
"We receive reimbursement from the state under its indigent care program. That just covers the cost of care (and recently it hasn't covered it), but the hospital isn't increasing its bottom line," she said. "In order for us to continue to increase care and upgrade equipment, there has to be some kind of a margin."
To try and decrease that number, VCU has both donated money to and  provides health care for uninsured. Garland said that patients who participate in VCU's program for uninsured patients go to the emergency room less, easing the burden on the health system.
"Studies have shown that people who are uninsured use the emergency room as their primary care provider, and we've found that to be true," she said. "That's why the programs that we have supported and put in place are so important."
David Larter covers health care for BizSense. Please send news tips to [email protected].