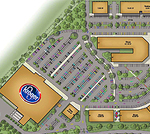 Development of the The Corner At Short Pump, a 47-acre retail and residential development on West Broad Street at Lauderdale Drive, is back on. Crews cleared the land in September of 2008 and the site has remained mostly a slab of dirt.
Brooks Bossle, director of acquisitions at Archon Group, the company developing the project, said there were a variety of factors holding up the project, which was supposed to get a Kroger opened by November.
"Lenders are a little more concerned than usual [right now]. We wanted to make sure we got all lending issues resolved before moving forward."
Bossle said the 86,000-square-foot Kroger, the center's flagship tenant, is on track to open in mid-2010. "The rest of the center will follow soon after [Kroger's opening,]" Bossle said.
"We got too far ahead of ourselves. I know there were a lot of rumors and speculation, but we're just happy to be back on track."
Trevor Dickerson runs downtownshortpump.com, an RBS news partner.