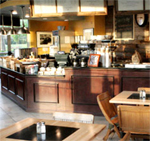 Café Caturra Coffee & Wine is preparing to open a fourth location in the Richmond area.
Owner and founder Jeff Grant along with CEO Dan Brantingham, have set their sights on a rapid expansion after that.
In mid-September, the café, a combination of a coffee house and wine bar, will open at the Short Pump Crossing Shopping Center at West Broad Street and Pump Road, said company spokesperson Dexter Brown.
"While our staffing needs vary from location to location, we anticipate hiring approximately 40 hourly employees," said Brown. "The management team consists of three veteran managers from our Midlothian cafes."
And last week the Tampa Bay Business Journal reported that the company raised $300,000 in private funds to build out the Short Pump location.
Style Weekly reported last spring the company planned to open 22 cafes over the next seven years including additional locations in Richmond. Style said then that the company had 70 investors.
Brown declined to comment on the Tampa Bay story, which also reported that Café Caturra had entered into a partnership with co-founder of Outback Steakhouse Chris Sullivan and his company OSI Restaurant Partners. OSI also owns Carraba's Italian Grill, Bonefish Grill, and Fleming's Prime Steakhouse & Wine Bar.
Outback Steakhouse is based in Tampa and has more than 900 locations.
From the article:
Sullivan and his family have become partners with the principals of Café Caturra, said Stephanie Amberg, a spokeswoman for OSI, which is not involved in the concept. "His role is more of a mentor to the team," Amberg said.
Amberg did not comment about that partnership, but he said the company plans to expand in Virginia and the Carolinas over the next few years.
Last week the company began work on the 3,200 square foot property in Short Pump which was previously occupied by an office of the real estate firm Long and Foster.
Like the company's other locations, two in Chesterfield and one at Libbie and Grove avenues, the Short Pump store will roast coffee on site and serve wine by the glass.
Al Harris covers restaurants for BizSense. Please send news tips to [email protected]